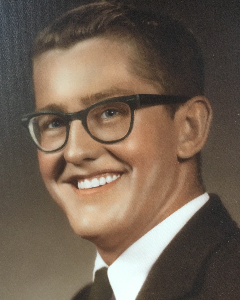 Service Information
Dennis Reiter, age 72, of Plato, Minnesota, passed away on Sunday, April 3, 2016, at Abbott Northwestern Hospital in Minneapolis, Minnesota. 
Memorial Services will be held Friday, April 8, 2016, 11:00 A.M. at Church of St. Pius X in Glencoe, Minnesota. 
Gathering of Family and Friends will be held Thursday, April 7, 2016, from 4:00 – 8:00 P.M. at Johnson-McBride Funeral Chapel in Glencoe, Minnesota.  Parish prayers will be at 6:00 P.M. with Knights of Columbus rosary to follow.   Gathering will continue one hour prior the service at the funeral chapel on Friday.
Visitation/Gathering
Johnson-McBride Funeral Chapel
1222 Hennepin Avenue
Glencoe, MN
Website:hantge.com
Service
Church of St. Pius X
1014 Knight Avenue
Glencoe, MN
Funeral Chapel
Johnson-McBride Funeral Chapel
1222 Hennepin Avenue
Glencoe, MN 55336
Phone:(320) 864-3737
Obituary
Dennis was born to Bernard "Ben" and Bernice (Friedman) Reiter on January 17, 1944, in St. Cloud, Minnesota. Dennis was baptized as an infant and later confirmed in his faith at St. Boniface Catholic Church in Cold Spring, Minnesota. He graduated from high school in 1962 and completed a Bachelor's Degree in chemistry from St. Louis University in St. Louis, Missouri in 1966. He studied oceanography at Johns Hopkins University in Baltimore, Maryland before returning to Minnesota.
On December 27, 1975, Dennis was united in marriage to Anna Marie Berger at St. Stephen's Catholic Church in Minneapolis, Minnesota. In 1981, Dennis and Anna Marie moved to Plato, Minnesota with their four-year-old daughter, Kristin. Their marriage was blessed three years later with another daughter, Evangeline. 
After college, Dennis worked for the Bureau of Criminal Apprehension, investment firms, and Mystic Lake Casino. He also developed a training program for insurance agents and investment broker/dealers. He was an active member at the Church of St. Pius X in Glencoe, Minnesota, including his service as Grand Knight for the Knights of Columbus. Dennis was a patriotic and hardworking man who also enjoyed singing, dancing, and teaching dance to others. He cherished time spent with his family and friends and was always available to lend a helping hand.
Blessed be his memory.
Dennis is survived by his:
Wife, Anna Marie Reiter of Plato, MN;
Daughters, Kristin Reiter and her fiancé, Hannibal Wyman, of Seattle, WA and Evangeline (Reiter) Skrla and her husband, Ryan, of Seattle, WA;
Siblings, Russel Reiter and his wife, Zhuling, of San Antonio, TX and Lou John and her husband, Dennis, of Amery, WI;
Sister-In-Law, Sandy Reiter of Longmont, CO;
sisters-in-law and brothers-in-law on his wife's side, along with many nieces, nephews, other relatives, and friends.
Dennis is preceded in death by his parents, Bernard and Bernice Reiter; Siblings, Jerome Reiter, Janice Reiter, Thomas Reiter.