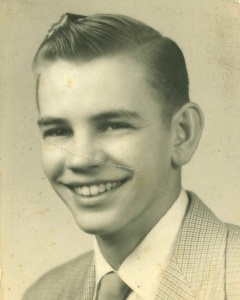 Service Information
Dennis D. Ulrich, age 86, of Hutchinson, Minnesota, formerly of Buffalo Lake, Cologne, and Chaska, Minnesota, passed away on Friday, June 30, 2023, at Hillcrest Care and Rehab Center in Mankato, Minnesota.
There will be a private family interment held at a later date.
Funeral Chapel
Dobratz-Hantge Funeral Chapel
899 Highway 15 South
Hutchinson, MN 55350
Phone:(320) 587-2128
Obituary
Dennis Donald Ulrich was born on June 13, 1937, in Buffalo Lake, Minnesota. He was the son of Edwin and Frieda (Braun) Ulrich. Dennis was baptized as an infant and later confirmed in his faith as a youth at Zion Lutheran Church in Buffalo Lake. He received his education in Buffalo Lake, and was a graduate of the Buffalo Lake High School Class of 1955.
Dennis entered active military service in the United States Air Force on September 13, 1955. He received an Honorable Discharge on May 1, 1959, and achieved the rank of Senior Airman.
Dennis was once married to Donna Albrecht and this marriage was blessed with one son, Steven Ulrich.
On December 3, 1965, Dennis was united in marriage to Norma Nelson in Minneapolis, Minnesota. Dennis and Norma resided in Renville County, Chaska, and Cologne, Minnesota, and later made their home in Hutchinson, Minnesota. They shared 50 years of marriage until Norma passed away on February 16, 2015.
Dennis worked for Biscan Builders in Carver, Minnesota and a metal fabrication foundry in Chaska, MN. He also worked as a bartender in the Chaska area. Following his retirement in 1983, he continued working as a carpenter, building decks, remodeling homes and cabins. Dennis was a member of the Chaska VFW Post 1791 and the Chaska American Legion Post 57. He was also a member of the Carpenters Union.
Dennis enjoyed wood working, anywhere from small projects to building decks, and fishing. He especially enjoyed spending time with his family, grandchildren, great grandchildren and friends.
Dennis passed away on Friday, June 30, 2023, at Hillcrest Care and Rehab Center in Mankato, Minnesota, at the age of 86 years.
Blessed be his memory.
Dennis is survived by his:
Son, Steven Ulrich of Hutchinson, MN;
Grandchildren, Sara Ulrich and her special friend, Josh of Byron, MN;
Great Grandchildren, Twins, Layla and Macie;
Sister, Lucille Wehking of Silver Lake, MN;
Many other relatives and friends.
Dennis is preceded in death by his Parents, Edwin and Frieda Ulrich; Wife, Norma Ulrich; Brothers, Gerald Ulrich, James Ulrich; Brother-in-law, Luvern Wehking; Nephew, Randy Ulrich.