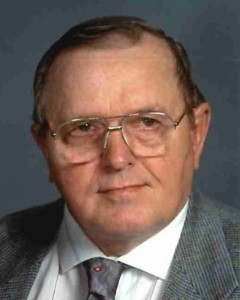 Service Information
Donald "Don" Hillman, age 79, of Hector, husband of Doris, passed away Monday, May 29, 2017, at the Fairfax Community Home in Fairfax. 
Funeral Service will be held Monday, June 5, 2017, at 11:00 A.M. at Emanuel Lutheran Church in Wellington Township, rural Fairfax.
Interment will be held in the church cemetery, with Military Honors presented by the Fairfax Honor Guard. 
Visitation will be held Sunday, June 4, 2017, from 4:00 – 7:00 P.M. at the Hauser-Hantge Funeral Chapel in Fairfax, and will continue Monday at Emanuel Lutheran Church for one hour prior to the service.
Memorials preferred to Emanuel Lutheran Church or Prairie Lutheran School.
Visitation/Gathering
Hauser-Hantge Chapel
601 South Park Street
Fairfax, MN
Website:hantge.com
Service
Emanuel Lutheran Church - Wellington Township
68364 CR 27
Fairfax, MN
Funeral Chapel
Hauser-Hantge Funeral Chapel
601 South Park Street
Fairfax, MN 55332
Phone:(507) 426-7274
Cemetery
Emanuel Lutheran Cemetery (Wellington Twp)
68364 C.R. 27, Fairfax, MN 55332
Fairfax, MN
Obituary
Donald Walter Hillman was born May 30, 1937, in Martinsburg Township, Renville County, rural Hector, Minnesota. He was the son of Walter and Evelyn (Grams) Hillman. Don was baptized and confirmed at Emanuel Lutheran Church, rural Fairfax. Don graduated from Buffalo Lake Public High School in 1955. He entered the U.S. Navy and served six years, with two years active duty aboard the USS Coral Sea Naval ship. Upon his Honorable Discharge of active duty, Don returned home and farmed near Hector. During his farming career, he also held employment with New Ulm Mfg. Co. / RayGo / Caterpillar Paving Products in New Ulm for 40 years. He retired in May of 1998.
Don was united in marriage to Doris Kulberg November 5, 1960, at Swedlanda Lutheran Church in Palmyra Township. This marriage was blessed with three children. Don and Doris shared 56 years of marriage. In their earlier years they enjoyed dancing, and in their later years traveling with their RV, including several winters in Arizona and Texas. Don always enjoyed spending time with his family.
Don was happy to be on the farm working. They raised pigs, chickens, and also cattle for a short time. Don was a creative machinist and a few of his replicated things were a wood splitter, chicken plucker, and skid loader bucket. He was always willing to do welding and machine repair for neighbors. He was a member of Emanuel Lutheran Church where he served on the school board and as an elder.
Don entered the Fairfax Community Home October 4, 2016, and passed away there May 29, 2017, one-half hour before his 80th birthday. Blessed be his memory.
Don is survived by his:
Wife, Doris Hillman, of Hector, Minnesota;
Daughter, Linda (Scott) Nissen, of Franklin, Minnesota;
Sons:   Mark Hillman of Hector, Minnesota, and Eric (Cheryl) Hillman of Robbinsdale, Minnesota;
Grandchildren: Brandon (Dana) Devorak, Mandy (Scott) Jensen, Ben Nissen, Danielle Caingcoy, Luke Hillman, Lauren (Dominic) Metty, and Taylor (Fiona) Donnelly;
Great-Grandchildren: Nevaeh Straumann, Dane and Mason Devorak, and Thomas, Maggie, and Michael Jensen;
Brother, Dale (Mary) Hillman of Hector, Minnesota;
other relatives, and friends.
Don was preceded in death by his parents, brother Gerald Hillman, and sister-in-law Pearl Hillman.