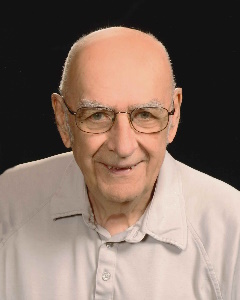 Service Information
Donald F. Schultz, age 91, of Hutchinson, Minnesota, passed away on Friday, May 12, 2023, at Woodstone Senior Living in Hutchinson.
Mass of Christian Burial will be held Thursday, May 18, 2023, at 3:00 P.M. at St. Anastasia Catholic Church in Hutchinson with interment at a later date in Fort Snelling National Cemetery in Minneapolis, Minnesota.
Gathering of Family and Friends will be held one hour prior to the Mass at the church.
Military Honors by the Hutchinson Memorial Rifle Squad.
Funeral Chapel
Dobratz-Hantge Funeral Chapel
899 Highway 15 South
Hutchinson, MN 55350
Phone:(320) 587-2128
Obituary
Donald Franis Schultz was born on February 25, 1932, in St. James, Minnesota. He was the son of Vencel and Lydia (Butherus) Schultz. Don was baptized as an infant and later confirmed in his faith as a youth at St. James Catholic Church in St. James. Don received his education in St. James, and was a graduate with the St. James High School class of 1949. He furthered his education at Sioux City School of Barbering in Sioux City, Iowa.
Don entered active military service in the Minnesota Army National Guard from March 23, 1949 to March 22, 1953. He was mobilized in January 1951 and eventually serviced almost 9 months in Germany for which he was awarded the Army of Occupation Medal. Don was discharged from active duty service in October 1952, having attained the rank of Sergeant First Class.
On January 31, 1953, Don was united in marriage to Elaine Elizabeth Survis at St. John Vianney Catholic Church in Fairmont. This marriage was blessed with three children, Michael, Steven, and Susan. Elaine and Donald resided in Estherville, Iowa, and later moved to Hutchinson, Minnesota. They shared 68 years of marriage before the passing of Elaine on September 20, 2021.
Don owned and operated a Barber Shop in Bancroft, Iowa, and was later at 3M in Hutchinson. He retired in April of 1990. Don was a member of St. Anastasia Catholic Church in Hutchinson. He was also a member of the St. Anastasia Knights of Columbus, American Legion Post #96, and Hutchinson Lions Club.
Don enjoyed fishing, hunting, camping, bowling, golfing, playing cards, cribbage, and traveling. He especially enjoyed spending time with his family, grandchildren and friends.
Don passed away on Friday, May 12, 2023, at Woodstone Senior Living in Hutchinson, at the age of 91 years.
Blessed be his memory.
Don is survived by his:
Children, Michael Schultz and his wife, Patty, of Forest Lake, MN,
Steven Schultz and his wife, Michelle, of Santa Maria, CA,
Susan Kruse and her husband, Randy, of Buffalo Lake, MN;
Grandchildren, Stacy Schultz, Scott Schultz, Nicole Kruse-Dye and her husband, Kyle, Heather VanderVoort and her husband, Josh;
Step-grandchild, Andrew Adams;
Great-grandchildren, Colton and Rayna VanderVoort, Evangeline "Evee" and Ruby Dye;
Step-great-grandchildren, Jake Adams, Anthony Adams and his fiancé, Crystal Taylor;
Brother-in-law, Thomas Survis of Jacksonville, FL;
Sister-in-law, Sharon Survis of Las Vegas, NV;
Many other relatives and friends.
Don is preceded in death by his Parents, Vencel and Lydia Schultz; Wife, Elaine Schultz; Sister, Mary Alice Thobe and her husband, Donald; Brother-in-law, Robert Survis and his wife, Cordelia "Trudy".