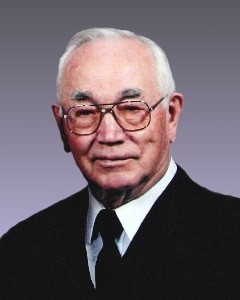 Service Information
Donald Herman Wendorff, age 98, of Hutchinson, Minnesota, husband of Laura Wendorff, passed away on Thursday, August 4, 2016, at Prairie Senior Cottages in Hutchinson.
Memorial Service will be held Wednesday, August 10, 2016, at 11:00 A.M., at the Peace Lutheran Church in Hutchinson.  Interment will be in the church cemetery.
Gathering of Family and Friends will be Wednesday, August 10, 2016, from 9:30 to 11:00 A.M. at the church.
Military Honors by the Hutchinson Memorial Rifle Squad.
Memorials Preferred.
Arrangements are with the Dobratz-Hantge Funeral Chapel in Hutchinson.
Visitation/Gathering
Peace Lutheran Church
400 Franklin Street S
Hutchinson, MN
Service
Peace Lutheran Church
400 Franklin Street S
Hutchinson, MN
Funeral Chapel
Dobratz-Hantge Funeral Chapel
899 Highway 15 South
Hutchinson, MN 55350
Phone:(320) 587-2128
Cemetery
Peace Lutheran Cemetery (Hutchinson)
205th Drive
Hutchinson, MN
Obituary
Donald Herman Wendorff was born on June 26, 1918, in Acoma Township, McLeod County, near Belle Lake. He was the son of Herman and Ida (Bunke) Wendorff. Don was baptized as an infant on July 21, 1918, by Reverend G. Fisher, and was later confirmed in his faith as a youth, on April 24, 1932, by Reverend W. Voight, both at Immanuel Lutheran Church in Acoma Township, McLeod County, Minnesota. In his youth, Don was a baseball pitcher for the Clear Lake Mud Hens. He received his education in Chicago, Illinois, and was a graduate of Coyne Radio School Class of 1937. After graduation, he was a radio repairman in Hutchinson. 
Don entered active military service in the United States Army on May 12, 1942, in Fort Snelling, Minnesota, and served his country during WWII. He achieved the rank of Sergeant and his occupation was radio repairman for aircraft equipment. He served overseas in the 893rd Signal Corp Station near Calcutta, India. He earned the American theater service medal, European-African-Middle Eastern theater service medal,         Asiatic-Pacific theater service medal, and the good conduct medal. He received honorable discharge on December 7, 1945, at Separation Center Camp McCoy, Wisconsin. 
On November 26, 1942, Don was united in marriage to Laura Hoff at Acoma Parsonage in Acoma Township, by Reverend W. Voight. This marriage was blessed with three children, LaVonne, Donna Mae, and Dale. Don and Laura resided in Hutchinson. They shared 73 years of marriage. 
After returning home from the service, he had a radio repair shop in Martin Luedtke's Coast to Coast store. Later, television came on the scene and he and Donald Abbott partnered in Don's TV Sales & Service. Don retired in 1973. Don was an avid amateur radio operator. His call letters were WØGPQ. He accomplished making radio contact with someone in all of the United States. Don was a member of the American Legion Post #96 since 1949, a charter member of the Hutchinson Jaycees, and served as president for two years for Little Crow Chapter of Antique Auto. In addition, Don was a long- time member of the National Antique Auto Club having received his 50 year pin in both organizations. Don was also a member of Peace Lutheran Church since 1947, and installed their first sound system. In 1965, Hutchinson Technology had its beginning in Don's chicken coop. He served on their board of directors for five years. 
Don's hobbies were fishing, hunting, amateur radio;and golf, but mainly restoring antique cars; his favorite was a 1910 Buick. He drove several brides and grooms to their reception in that car. Don also drove the car in the New London and New Brighton car run every August for ten years. In March of 2009, his 100 year old McIntyre was displayed at the car show at the Minneapolis Convention Center. After retirement, Don and Laura did a lot of traveling. They spent winters in Texas, Florida and lived in a mobile home in Apache Junction, Arizona, for ten winters. He cherished the time spent with his family, grandchildren, and friends. 
When Don needed help with his daily care he moved to Prairie Senior Cottages in Hutchinson, Minnesota on December 27, 2013.  Don passed away peacefully there on Thursday, August 4, 2016, on, at the age of 98 years. 
Blessed be his memory.
Don is survived by his:
Wife, Laura Wendorff of Hutchinson, MN;
Children, LaVonne Hansen and her husband, Allen of Hutchinson, MN,
                  Dale Wendorff and his wife, Betty of Hudson, WI,
Grandchildren, Dr. Ronnell Hansen and his wife, Dr. Elisa, Bobbi Jo, Laura Jean, and Carl Wendorff;
Great Grandchildren, Logan Hansen, Aya Hansen, and Astrid Hansen;
Sisters-In-Law, Elizabeth Hoff of Hutchinson, MN,
                             Delores Hoff of Hutchinson, MN;
Many other Nieces, Nephews, and special friends.
Preceded in death by his Parents, Herman and Ida Wendorff; Daughter, Donna Mae Wendorff; Brothers, Everett Wendorff, Warren Wendorff and his wife, Elva, and Lawrence Wendorff and his wife, Georgia; Sister, Norma Joecks and her husband, Fredrick; Sister-In-Law, Millie Hakes and her husband, Bruce.