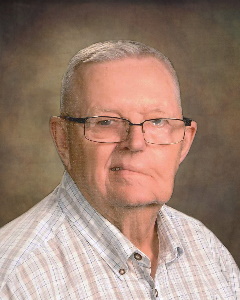 Service Information
Donald R. Hartwig, husband of Marilyn, age 85, of Hutchinson, Minnesota, passed away on Tuesday, January 24, 2023, at Harmony River Living Center in Hutchinson.
Mass of Christian Burial will be held on Friday, June 9, 2023, at 11:00 A.M. at St. Anastasia Catholic Church in Hutchinson.
Interment will be held at a later date in St. Anastasia Catholic Cemetery in Hutchinson.
Gathering of Family and Friends will be held one hour prior to the service at the church.
Military Honors by the Hutchinson Memorial Rifle Squad.
Visitation/Gathering
St. Anastasia Catholic Church
460 Lake Street South
Hutchinson, MN
Service
St. Anastasia Catholic Church
460 Lake Street South
Hutchinson, MN
Funeral Chapel
Dobratz-Hantge Funeral Chapel
899 Highway 15 South
Hutchinson, MN 55350
Phone:(320) 587-2128
Cemetery
St. Anastasia Catholic Cemetery (Hutchinson)
Hwy 15 N.
Hutchinson, MN
Obituary
Donald Roy Hartwig was born on September 30, 1937, in Hutchinson, Minnesota. He was the son of Arthur and Alyce (Hauge) Hartwig. Donald was baptized as an infant and later confirmed at Faith Lutheran Church in Hutchinson. At age 3, Donald moved to Brainerd, Minnesota. Age 4, Donald lived in Ely Minnesota for 1 year. Age 5 moved back to Brainerd and lived there until the age of 13, when they moved to a farm site south of Cedar Lake. He received his education in Hutchinson and was a graduate of the Hutchinson High School class of 1955.
Donald entered active military service in the United States Air Force on January 4, 1956, in Minneapolis, Minnesota and served his country until receiving an Honorable Discharge on December 11, 1959 at Eglin Air Force Base, near Fort Walton beach Florida, and achieved a rank of E4. Shortly thereafter, he entered the work force as an electrical inspector at General Mills in Minneapolis, MN. He worked there for approximately 2 months; however, he did not enjoy living in the big city, so he moved back to Hutchinson to help his parents on the farm. He worked there until he got hired at 3M in August of 1960. At 3M, he started in the warehouse, and shortly thereafter became a supervisor for 34 years at which time he retired in 1994 at the age of 56.
On May 6, 1961, Donald was united in marriage to Marilyn Marie Stolpman at St. Anastasia Catholic Church in Hutchinson. This marriage was blessed with three sons. Gregory, Jeffrey, and John. Donald and Marilyn made their home in Hutchinson where they shared 61+ years of marriage.
Donald was a member of St. Anastasia Catholic Church in Hutchinson. He was also a member of the Hutchinson American Legion Post 96 for 34 years as well as the Sheriff's Posse for 9 years.
Donald enjoyed the outdoors, going fishing, hunting and camping. He also enjoyed playing cards. He especially enjoyed spending time with his family, friends and was especially proud of his sons.
Donald passed away on Tuesday, January 24, 2023, at Harmony River in Hutchinson, at the age of 85 years.
Donald is survived by his:
Wife, Marilyn Hartwig of Hutchinson, MN;
Sons, Gregory Hartwig and his wife Jody of Katy, TX,
Jeffrey Hartwig and Terrie of Darwin, MN,
John Hartwig and Heather of Fort Worth, TX;
Grandchildren, Jessica (Quintin) Branch, Stephanie (Michael) Ellerbe, Brittany (Mark) Deeton, Michael (Holly) Hartwig, Matthew Hartwig, Marcus Hartwig, John (Jack) Hartwig II and Melissa Hartwig;
Great Grandchildren, Mackenzie, Harper, Riley, Rosalynn, Grace and Jameson;
Siblings: Becky (Paul) Krueger of Rochester, MN,
Bruce (Pat) Hartwig Hutchinson, MN;
Many other relatives and friends.
Donald is proceeded in death by his Parents, Arthur and Alyce Hartwig; Brother, James Hartwig; Sister-in-law, Eulaine (Casey) Hartwig; Sister, Barbara and Brother-in-law, Reinhard Linkert.