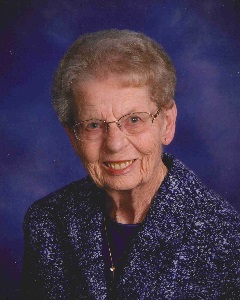 Service Information
Donna M. Stuber, age 89, of Winthrop passed away Saturday, January 21, 2023, at Ridgeview Le Sueur Nursing and Rehab Center in LeSueur, Minnesota.
Funeral Service will be Tuesday, January 31, 2023, 11:00 A.M. at First Evangelical Lutheran Church in Winthrop with interment in the Winthrop Cemetery.
Visitation will be Tuesday, January 31, 2023, from 9:30 A.M.-11:00 A.M. (1 1/2 hours prior), ALL at church.
Memorials preferred to First Evangelical Lutheran Church in Winthrop.
Visitation/Gathering
First Evangelical Lutheran Church
213 N Hennepin
Winthrop, MN
Service
First Evangelical Lutheran Church
213 N Hennepin
Winthrop, MN
Funeral Chapel
Dalin-Hantge Funeral Chapel
209 West Second Street
Winthrop, MN 55396
Phone:(507) 647-5326
Cemetery
The Winthrop Cemetery
Winthrop, Sibley County
Winthrop, MN
Obituary
Donna Mae Stuber was born on January 8, 1934, in Cornish Township, Sibley County, Minnesota, to Alvin and Myrtle (Lickfett) Anderson. She was baptized and confirmed at Clear Lake Church, and was a graduate of Gibbon High School.
After meeting the love of her life, Norville Stuber, at a dance at the Gibbon Ballroom, Donna and Norville were united in holy matrimony on March 14, 1953, at First Evangelical Lutheran Church in Winthrop. Donna and Norville began their 56 years together in Winthrop, Minnesota, during which time they welcomed two children. As a family they relocated to Le Sueur, Minnesota, and Donna began working for Green Giant, where she worked for 22 years. Upon retirement, the Stuber's life-long dream of living by a lake became a reality when they moved to Lake Mille Lacs, and only after many wonderful years of lake life returned home to Winthrop, Minnesota.
No matter where Donna called home, she found joy in family, friends, home and community. Donna enjoyed spending time with family, whether it was traveling with Norville, hearing about her children's and grandchildren's adventures, or going on shopping trips to some of her favorite stores. Donna valued her friendships and was always up for a cup of coffee or friendly card game. She took pleasure in spending time tending to her flowers, reading, and watching Wheel of Fortune, Hallmark movies (always liking the happy endings), and Vikings football games (she was thrilled they made it to the playoffs in the 2022 season). Additionally, Donna was involved with her church and other volunteer activities and she prioritized being an active part of her community.
Donna is survived by her:
Children,          Connie (Ron) Lefever of Arnolds Park, IA, and
                        Michael (Kathy) Stuber of Wyoming, MN;
Six Grandchildren, Jessica (Dan Hyson) Siebenbruner of Winona, MN, Kris (Brett) Ripke of Hartley, IA, Emilie (Joey) Hendrickson of Rice, MN, Lacey (Jasen) Kapaun of Minneapolis, MN, Brittany (Robert Sangren) Jesmer of Forest Lake, MN, and Ryan Lefever of Spencer, IA;
Seven Great-grandchildren, Madison, Hailee, Ellianna, Cole, Easton, Annika, Everett;
Sisters, Carrolynn Rathmann and Margaret Lund;
Brother, Bill and Diane Anderson;
Brothers-in-law and Sisters-in-law, Alva Bethke, Diane Fredin, Steve and Pat Stuber and Michael Korkemier;
Nieces, nephews, other relatives and friends.
Donna was preceded in death by her adoring Husband, Norville Stuber; Infant Son (Baby Boy Stuber); loving Parents, Alvin and Myrtle Anderson; Father-in-law and Mother-in-law, Edwin and Ellanora Stuber; Siblings, Dorothy and Rudy Hahn, Calvin and Elva Anderson, Marion and Rueben Neubarth, Elaine and Gerhardt Stressemann, Eunice and Joe Boehm, Marlys and Leon Rettig, Clarence Rathmann, Earl Anderson, Sandy Korkemier; Brothers-in-law and Sister-in-law, LeRoy and Deanna Stuber and Charles Bethke; beloved dogs and treasured friends.