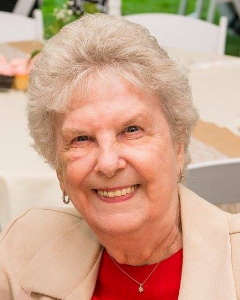 Service Information
Dorothy Ann Hintz, age 86, of Hutchinson, Minnesota, passed away Sunday, January 2, 2022, at Woodstone Senior Living in Hutchinson.
Gathering of Family and Friends will be held Sunday, January 9, 2022, from 3:30-5:30 P.M. at Dobratz-Hantge Funeral Chapel in Hutchinson, Minnesota. 
Social distancing guidelines will be followed and face masks are requested per family.
Visitation/Gathering
Dobratz-Hantge Chapel
899 Highway 15 South
Hutchinson, MN
Website:hantge.com
Funeral Chapel
Dobratz-Hantge Funeral Chapel
899 Highway 15 South
Hutchinson, MN 55350
Phone:(320) 587-2128
Obituary
Dorothy Ann Hintz passed away peacefully on January 2, 2022 at Woodstone Senior Living in Hutchinson, Minnesota. She was born on July 7, 1935 to Arie and Emma Cook in Lemmon, South Dakota, the youngest of six children, and as she always reminded us, the "fun one" in the bunch.
She grew up moving with her parents from one place to another across western South Dakota while her father worked construction during the heart of the depression. When she was old enough to have her say, she told them she would finish high school where she started, and she graduated from Lemmon High School in 1954. Paging through her Senior yearbook, it is abundantly clear that she was the fun one! From choir to cheerleading to homecoming court, she shows up on many pages, always with an easy and engaging smile.
In 1955, she went with a bunch of friends to a dance in Morristown. Tagging along with his sister was a handsome fellow just home from the Army. His name was Wilbur Hintz, and he was smitten by her beauty and her zest for life. He affirmed that she was indeed fun, later recounting that she was not only gorgeous, but always the life of the party. They married on January 8, 1956 and shared 63-years of marriage before Wilbur passed away in 2019.
They settled on the farm in Adams County just north of Lemmon. Dorothy always said that while her maiden name was Cook, it wasn't reflective of her skills in the kitchen. She was actually an excellent cook, and she prepared hearty meals for the men who came to help during the busy times of year. Farming life was fine, but she missed the socializing that gave her energy and purpose. Over the years, she worked at several retail stores on Lemmon's bustling main street. She was a long-time fixture at the Ben Franklin store. Her co-workers were like extended family, and she loved to shoot the breeze with customers and help them find exactly what they were looking for in a store that was filled to the rafters with goods from winter coats to window shades.
Her "darling daughter Diana" was born in 1959, and her second precious daughter, Stacey, was born in 1963 but only survived briefly before joining the angels. Dorothy carried her grief with both grace and profound heartache through the years, and it gave her deep empathy for others who were struggling with emotional pain and loss brought on by any of life's hardships.
She was a loving mother, a wise council, and a best friend to Diana over the years. Dorothy was full of sage and witty advice and occasionally would lay it out in the clearest of ways. There really was no need to guess about how Dorothy saw the world … just ask, and she would tell you. It was the greatest gift she could give to a daughter growing up in a time when women were expected to behave in a certain way.
In their 63 years together, Dorothy and Wilbur worked hard, danced often, and traveled around the country with family and friends. As her memory began to fail, they became a team that relied on the strengths of each partner to carry them through. Dementia stole so many of her treasured memories, but it did not stop her from experiencing countless moments of joy with her beloved husband. They adored their grandsons, Garrett and Mason, and danced at both of their weddings. Dorothy held her newborn great grandsons and gently "shushed" them when they fussed.
She moved to Hutchinson to be close to Diana after Wilbur passed. It was incredibly difficult to leave her home and the familiar people and routines that are so important to someone experiencing memory loss, but new routines and moments of joy were created by her family and the care providers who appreciated the wit and humor that were there until her final days.
She is survived by her daughter Diana Anderson (John) of Hutchinson; grandsons Garrett (Krista) and Mason (Samantha) Anderson; and great grandsons Finn Daniel and Maxwell John as well as her sister, Elaine Wolff. She will also be missed by Wilbur's surviving siblings and the nieces and nephews on the Cook side of the family that remember her as the fun aunt.

Blessed be her memories!