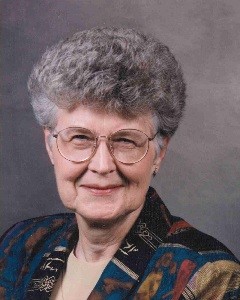 Service Information
January 20, 2016
Dorothy Klawitter, age 89, of Hutchinson, passed away on Tuesday, January 19, 2016, at Abbott Northwestern Hospital in Minneapolis.
Funeral Services will be Saturday at 10:30 A.M. at Grace Lutheran Church in Hutchinson with interment in the Oakland Cemetery in Hutchinson.
Visitation will be one hour prior to the service at church.
Visitation/Gathering
Grace Lutheran Church
430 5th Avenue SW
Hutchinson, MN
Service
Grace Lutheran Church
430 5th Avenue SW
Hutchinson, MN
Funeral Chapel
Dobratz-Hantge Funeral Chapel
899 Highway 15 South
Hutchinson, MN 55350
Phone:(320) 587-2128
Cemetery
Oakland Cemetery
805 Hwy 15 South
Hutchinson, MN
Obituary
Mrs. Klawitter was born July 10, 1926, in Meeker County, daughter to David L. Olesen and Alma (Bluhm) Olesen. She was the middle child of seven children. She resided in Hutchinson most of her life and it was there she met her future husband, Edwin Klawitter. They kept in touch while he served overseas in WWII and were married in a small ceremony February 9, 1946.

Mrs. Klawitter led an active life and was highly involved in our community. She taught at a country school for several years before the small schools were dismantled. She was employed by 3M for many years. Because of Edwin's military service, she participated as a lifetime member of the American Legion and Disabled American Veterans Auxiliary, and served as president of the VFW Auxiliary. She volunteered as chairperson of the Red Cross Bloodmobile campaigns for ten years after her retirement from 3M. Dorothy belonged to Grace Lutheran Church for over 50 years and during that time was active in the Auxiliary. She also had a lifetime membership volunteering at the Hutchinson Hospital Auxiliary and the McLeod County Historical Museum. Dorothy was a devoted member of Al-Anon for over 30 years, attending many of their meetings and offering solace to many. She had a passion for genealogy and, in her spare time, collected volumes of pictures and information about the Olesen, Klawitter, Bluhm and Polchow families.

Their first child, Jerene Klawitter Waite, was born in 1947, at Hutchinson Community Hospital while Edwin was at the VA Hospital in Minneapolis having surgery on his back for an injury suffered during the war. Jerene currently resides in Cortez, CO, as owner of Kelly Place Bed & Breakfast. Jerene and former husband George Waite had two daughters, Jennifer and Melendy (Meah).

Dorothy's favorite son Brian Klawitter was born in 1956, at Hutchinson Hospital. Brian and wife Deborah (Carbert) Klawitter are living in Lake St. Croix Beach, MN. Brian works at American Test Center in River Falls, WI, and, in season, does a thriving weekend business taking people fishing for trophy catfish and sturgeon on the Mississippi River. Their daughter Nicole resides in Oakdale, MN.

When two of Dorothy's family members became ill or passed away, Dorothy and Edwin temporarily took over care of their children until the situation could be resolved. She helped brother, Donald raise his two sons Kenneth and Ronald Bahr for a few years and her brother, Douglas' infant son, Craig Olesen. Craig lived in their household until he was nearly 5 years old, when his father was able to take him back and raise him. When granddaughter, Nicole had back surgery, Dorothy took over care of her great granddaughter baby Ella for the first 6 months of her life. She took on the role of new mother at the age of 87 and never lost her touch.

The family wishes to thank the local chapter of Disabled American Veterans, niece, Karen Doelger and granddaughter, Jennifer Roebuck for extraordinary assistance during the time of her illness.

Dorothy is also survived by one sister, Virginia Becker, residing in Springfield Missouri; her granddaughters Nicole, Jennifer and Melendy; great grandchildren Jynelle, Troy, Ella, and Madeleine; and great-great grandchildren Ava and Sydney.

She was preceded in death by her husband of 59 years, Edwin, her parents, her sister Doris, and brothers Donald, Victor, Vernon, and Douglas.

Dorothy passed away on Tuesday, January 19, 2016, at Abbott Northwestern Hospital in Minneapolis, Minnesota, surrounded by her close family, at the age of 89 years.