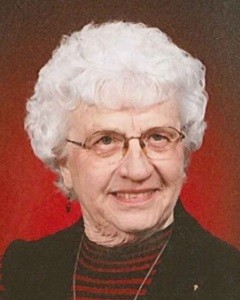 Service Information
Dorothy Kaatz, age 89, of Buffalo Lake, passed away Thursday, July 24, 2014, at the Buffalo Lake Healthcare Center.
Funeral Service will be Wednesday, July 30, 2014, at 11:00 A.M. at Zion Evangelical Lutheran Church in Buffalo Lake.
Interment in the Church Cemetery.
Visitation will be held Tuesday from 5:00 – 7:30 P.M. at Zion Evangelical Lutheran Church in Buffalo Lake, and will continue for one hour prior to the service on Wednesday.
In lieu of flowers, memorials in memory of Dorothy are requested to Zion Evangelical Lutheran Church in Buffalo Lake. 
Visitation/Gathering
Zion Evangelical Lutheran Church
228 5th Street NW
Buffalo Lake, MN
Service
Zion Evangelical Lutheran Church
228 5th Street NW
Buffalo Lake, MN
Funeral Chapel
Hughes-Hantge Funeral Chapel
311 Main Street S.
Hector, MN 55342
Phone:(320) 848-6297
Cemetery
Zion Lutheran Cemetery (Buffalo Lake)
Buffalo Lake, MN
Obituary
Dorothy Martha Niebuhr was born on December 1, 1924 at her family's rural home in Moltke Township just north of Gibbon Minnesota.  She was the seventh child of eight born to William D Niebuhr, Jr. and Sophie Jahnke Niebuhr.  She was baptized into the Christian faith December 14, 1924 and confirmed April 10, 1938.  Both of these rites occurred at Immanuel Lutheran Church in Gibbon, the church where her parents are buried.
Dorothy Kaatz was an active, hardworking, and loving mother, sister, and friend throughout her 89 years.  She graduated from Gibbon High School in 1943 and shortly thereafter moved to Minneapolis where she was employed at a Gamble-Skogmo store on Chicago Avenue.  She transferred to another Gamble store in Fargo-Moorhead in 1947.  She met her future husband, Muril, at a wedding in Fargo and they married in Fargo on February 26, 1949.
Dorothy and Muril's first child, Brian, was born in Fargo.  Soon after they moved to Vancouver, Washington for a time, then back to North Dakota where Bonnie was born.  After huddling in the basement and surviving the 1957 Fargo tornado which caused extensive damage to their home, they decided to move to Minnesota in 1959.  Their destination was Buffalo Lake, where child number three, Amy, was born, and where Dorothy and Muril lived until their deaths.
Dorothy maintained the household and also worked out of the home in various Buffalo Lake locations, including the local hardware stores and bakery, the Buffalo Lake School District, and the Buffalo Lake Healthcare Center.  She valued the Center very much, working there for approximately 20 years, volunteering there, and eventually calling it home for her last few years.  Dorothy's family would like to express grateful appreciation for all the wonderful care she was given over that time.
She dearly loved her family and treasured every visit by her children, the grandkids, eventually the great-grands, as well as her extended family, which was large and always entertaining.  Though not an extensive traveler, she did take pleasure in the trips she was able to take, and often vicariously enjoyed the journeys of others.  She enjoyed quilting, ceramics, and playing cards.  She was a good conversationalist and hostess and a faithful churchgoer/volunteer.  Dorothy will most certainly be missed.
Dorothy Kaatz was preceded in death by her husband Muril in 1992, as well as her sisters Edna (Podratz), Esther (Sell), Malinda (Sell), Lydia (Buerkle), and Ruth (Olsen). Her single brother Arthur died in his youth in 1922 before Dorothy was born.
Survivors include her son Brian (Joyce) Kaatz of Sioux Falls, and daughters Bonnie (Michael) Schmidt of Monticello and Amy (Scott) Walquist of Princeton.  Grandchildren are Tate and Drew Walquist, Nathan (Jennifer Fiedor) and Tyler Schmidt, and David (Candee) Kaatz and Julie (Cory) Hample.  Also surviving are five great-grandchildren ranging in ages from 1 to 5, Holden, August, Mathilda, Errol, and Elouise; sister, Melva Young Peterson, and numerous nieces and nephews.