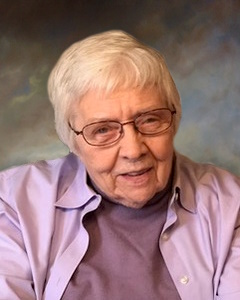 Service Information
Dorothy Rasmussen, age 98, of Chicago, Illinois, formerly of Hutchinson, Minnesota, passed away on Saturday, April 22, 2023, at Birchwood Plaza Nursing Home in Chicago, Illinois.
Graveside Service will be held Saturday, May 13, 2023, at 1:00 P.M., at Oakland Cemetery in Hutchinson, Minnesota.
Funeral Chapel
Dobratz-Hantge Funeral Chapel
899 Highway 15 South
Hutchinson, MN 55350
Phone:(320) 587-2128
Cemetery
Oakland Cemetery
805 Hwy 15 South
Hutchinson, MN
Obituary
Dorothy Marie Rasmussen was born on January 27, 1925, in Boon Lake Township, Minnesota. She was the daughter of William and Emma (Duesterhoft) Rassmussen. Dorothy was baptized as an infant at St. Morten Lutheran Church in Heatwole Township, Minnesota, and was later confirmed in her faith as a youth at Faith Lutheran Church in Hutchinson. She grew up on a farm outside of Hutchinson. Dorothy was the only girl in a family of four boys, attended a one-room school, voraciously read used books her father collected for her at every opportunity, and generally avoided cooking throughout her life. Her educational journey took her through her undergraduate degree at Gustavus Adolphus University and graduate school in Library Sciences at the University of Minnesota in Minneapolis, Minnesota.
Dorothy worked as a Reference Librarian at Gustavus Adolphus University in St. Peter, MN, prior to moving to Chicago in the mid-1950's, to accept a librarian position at the Skokie Public Library, located at the time in its original store-front location on Oakton Street. As the Head of Adult Services and Assistant Director, Dorothy served Skokie and area residents for 30+ years until her retirement in 1987. She left behind a career of excellent reference work, development of the preeminent materials collection of the Skokie Public Library, Lifetime member of the American Library Association, membership on the American Library Association's Notable Books Committee for several years, and attentive mentorship of her Adult Services staff over those many years.

Dorothy's life outside the Skokie Public Library revolved around collecting and reselling used books, excursions with friends, family visits to Minnesota, her church, Immanuel Lutheran Church on Elmdale in Chicago, and, of course, her pure joy in reading mysteries, Trollope and other literary giants. Never afraid of traveling new roads, in retirement, at age 79, she decided to move her book resale efforts to Amazon in keeping with the move of such commercial efforts away from print publications. Armed with her new iMac computer, acquiring new skills, she bravely launched herself onto the used book market on the Internet.

Dorothy is survived by her:
Brothers Donald Rasmussen and his wife, Irene of Hutchinson, MN,
Lowell Rasmussen and his wife, Mary of Nevis, MN;
and a multitude of loving nieces and nephews and grand-nieces and nephews.
Dorothy is preceded in death by her Brothers, Orville (Doryce) Rassmussen, and Wilbur (Sharon) Rassmussen.

In the words of her niece, Dr. Sonja Rasmussen, "Dorothy had a great life - a job that she loved and friends and family who loved her dearly. She will be missed."