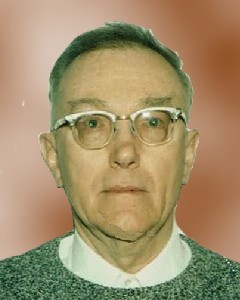 Service Information
Dr. John Coryell, age 89, of Madison, Wisconsin, passed away Saturday, December 3, 2016, at Attic Angels Nursing Home in Middleton, Wisconsin.
Graveside Service will be Tuesday, December 20, 2016, 10:00 A.M. in the Huderle family plot in Oakland Cemetery in Hutchinson. 
Arrangements with the Dobratz-Hantge Funeral Chapel in Hutchinson.
Funeral Chapel
Dobratz-Hantge Funeral Chapel
899 Highway 15 South
Hutchinson, MN 55350
Phone:(320) 587-2128
Cemetery
Oakland Cemetery
805 Hwy 15 South
Hutchinson, MN
Obituary
John Lewis Coryell was born in Madison, Wisconsin, on January 15, 1927, to Lewis S. and Nell (Huderle) Coryell.   He graduated from Wisconsin High School in Madison, and began studies at the University of Wisconsin before being drafted into the Army during World War II.  After he completed his service he returned to the University, receiving a Bachelor's degree in Zoology and his MD in 1953.  He opened his practice in Internal Medicine, and continued to provide care for his patients until he retired in 1987. 
Dr. Coryell was a man of many interests.  He spent many years fishing (often in a boat he had built himself), sailing, and skiing.  He was an enthusiastic baker, sharing pecan rolls and pies with friends and family.  He taught his nieces to fly kites, ice skate, and play chess.  After he retired, he made four trips to Europe, and was particularly interested in tracking his Czech roots.  He placed a high value on education, and funded several scholarship programs in Wisconsin and Minnesota.
Dr. Coryell was a member of the American Medical Association, the Wisconsin Medical Society, and the Dane County Medical Society.  He also served as the Medical Director for National Mutual Benefit for over fifty years.
John is survived by his
sister, Mary (Coryell) Schaaf of Lee's Summit, MO;
two nieces, Susan (Schaaf) Wilson of Cheyenne, WY, Barbara Schaaf Petty of Lee's Summit, MO;
great nieces and a great-nephew, Renee Petty, Allison Petty, Valerie Wilson Ruskanen, and David Wilson;
one great-great niece, Jasmine Ruskanen.
Dr. Coryell was preceded in death by his parents, Lewis and Nell Coryell.