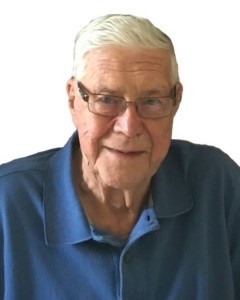 Service Information
Duane Rasmussen, age 89, of Hector, passed away Monday, July 10, 2017, at the St. Cloud Hospital in St. Cloud, Minnesota.
Memorial Service will be Thursday, July 13, 2017, at 11:00 A.M. at the United Methodist Church in Hector.
Interment will be in the Hector City Cemetery.
Gathering of Family and Friends will be Thursday, July 13, 2017, from 9:00 – 11:00 A.M. at the United Methodist Church in Hector.
Memorials preferred to the National Parkinson Foundation - www.parkinson.org 
Visitation/Gathering
United Methodist Church
300 2nd Street West
Hector, MN
Service
United Methodist Church
300 2nd Street West
Hector, MN
Funeral Chapel
Hughes-Hantge Funeral Chapel
311 Main Street S.
Hector, MN 55342
Phone:(320) 848-6297
Cemetery
Hector City Cemetery
Renville County, Hector Township, Section 32
Hector, MN
Obituary
Duane Orvis Rasmussen was born at the family farm near Wyndmere, ND on August 26, 1927, the son of Daniel and Mary (Jensen) Rasmussen. He was baptized and confirmed in the Methodist faith. Duane received his education in Wyndmere, and graduated with the Class of 1945.
On July 10, 1949, Duane was united in marriage to Beverly Dohman at the Methodist Church in Milnor, ND. During their first years of marriage they lived in Barney, ND, Montevideo, MN, and Rowena, MN, where Duane worked in the grain elevator business. In 1964, Duane moved his family to Hector, MN for his employment as Manager of the Farmers Co-op Exchange. He held that position until his retirement in 1989.
Duane was active within the Hector community, serving with the Chamber of Commerce, City Council, and Fire Department. He was also a dedicated member of the Hector United Methodist Church.
Duane loved rural and small-town life and enjoyed his years as a grain buyer. Outside of work, Duane enjoyed coffee with friends at Pete's Grill, going to threshing bees, woodworking, watching the Timberwolves, and spending time with his family.
Early Monday morning, July 10, 2017, Duane passed away at the St. Cloud Hospital having reached the age of 89 years. Blessed be his memory.
Duane is survived by his:
Wife, Beverly Rasmussen of Hector;
Children:         Janell Meredyk and her husband Roger of Edina,
                        Bob Rasmussen and his wife Mary of Hector, and
                        Don Rasmussen and his wife Julie of Chaska;
Grandchildren: Brian Meredyk, Anna Buckley (Jesse), Michael Rasmussen, Matt Rasmussen, Nathan Rasmussen, and Michaela Rasmussen;
Great-Granddaughter, Kyra Meredyk;
Sisters: Mildred Strege of Lidgerwood, North Dakota, and Marlys Gira (Jerome) of Wahpeton, North Dakota;
nieces, nephews, other relatives, and friends.
Duane was preceded in death by his parents, Daniel and Mary; twin daughters, Mary Francis and Francis Jean; and his brother-in-law, Elmer Strege.