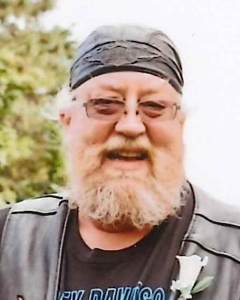 Service Information
Edward "Tiny" G. Chermak, 64, of Hector, Minnesota, passed away on Saturday, December 11, 2021, at his home in Hector.
Gathering of Family and Friends will be held Saturday, January 22, 2022, from 11:00 AM to 4:00 PM at Hunters Ridge Church in Hutchinson, Minnesota.
The family invites everyone to dress in their Harley Davidson or other motorcycle gear.
Visitation/Gathering
Hunter's Ridge Community Church
850 School Road SW
Hutchinson, MN
Funeral Chapel
Hughes-Hantge Funeral Chapel
311 Main Street S.
Hector, MN 55342
Phone:(320) 848-6297
Obituary
Edward "Tiny" Gene Chermak was born on October 29, 1957, in Minneapolis, Minnesota. He was the son of Otto and Joyce (Palmquist) Chermak. Edward received his education in Jordan, Minnesota, and was a graduate of the Jordan High School Class of 1976. He furthered his education at Dunwoody Institute in Minneapolis, receiving his Associates Degree in HVAC.
Edward entered active military service in the United States Army right out of high school and was stationed in Germany. He received an Honorable Discharge on June 6, 1982.
On May 5, 1990, Edward was united in marriage to Teri Ward at First Evangelical Lutheran Church in Hector, Minnesota. This marriage was blessed with two children, Amy and Tylor. Edward and Teri resided in Hector. They shared 20 years of marriage before the passing of Teri on December 31, 2010.
Edward was employed in the HVAC Department at Hutchinson Technology Incorporated in Hutchinson, Minnesota for 20 years. He then went on to work at 3M in Hutchinson. Edward was a member of the Renville Rangers Shooting Club.
Edward enjoyed hunting, fishing, going to the casino, and riding his motorcycle. He especially enjoyed spending time with his family, grandchildren and friends.
Edward passed away on Saturday, December 11, 2021, at his home in Hector, Minnesota, at the age of 64 years.
Blessed be his memory.
Edward is survived by his
Daughter, Amy Hopkins and her husband, Seth of Hutchinson, MN;
Grandchildren, Silas and Lincoln Hopkins of Hutchinson, MN;
Father, Otto Chermak;
Siblings, Steven Chermak,
Treresa Chermak,
Joan Karst,
John Chermak,
Ronald Chermak;
Many other relatives and friends.
Edward is preceded in death by his Mother, Joyce Chermak; Wife, Teri Chermak; Son, Tylor Chermak; Brothers, Kenneth Chermak, Richard, Chermak, and Daniel Chermak.