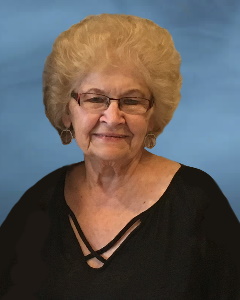 Service Information
Eileen Ann Pulkrabek, age 83, wife of Ron, of Glencoe, Minnesota, passed away Monday, November 14, 2022, at GlenFields Living With Care in Glencoe, Minnesota.
Mass of Christian Burial will be held Saturday, November 19, 2022, 12:00 P.M., at the Church of St. Pius X in Glencoe, Minnesota, with interment at a later date at the Glencoe Catholic Cemetery.
Gathering of Family & Friends will be held Saturday, November 19, 2022, from 10:00 A.M. – 12:00 P.M, two hours prior to the service at the church.
Visitation/Gathering
Church of St. Pius X
1014 Knight Avenue
Glencoe, MN
Service
Church of St. Pius X
1014 Knight Avenue
Glencoe, MN
Funeral Chapel
Johnson-McBride Funeral Chapel
1222 Hennepin Avenue
Glencoe, MN 55336
Phone:(320) 864-3737
Cemetery
Glencoe Catholic Cemetery - St. Pius X
Glencoe, MN
Obituary
Eileen Ann (Urban) Pulkrabek was born to Rudolf and Myrtle (Ardolf) Urban on February 12, 1939, in Glencoe, MN. She was baptized on February 21, 1939, and later confirmed in her faith on May 30, 1947, at St. Joseph Church in Silver Lake, MN. She attended Silver Lake High School and graduated in 1956.
She met the love of her life, Ron, at a Silver Lake basketball game in high school. They were united in marriage on June 9th, 1959 in Silver Lake. They celebrated their 50th Wedding Anniversary at the Pla-Mor Ballroom with over 400 guests. The Wally Pikal Polka Band played on both occasions. They were happily married for 63 years and were blessed with two daughters, Rhonda and Rachelle.
Throughout her life, Eileen worked for Greyhound Bus Line, Green Giant and 3M for 13 years. She would give gifts of tape, notepads, and office supplies to friends and family for years to come. 
Eileen and Ron's traveling adventures took them to 42 states and 20+ countries. They traveled to Australia four times to visit her brother, visited Europe 20 times, and toured Russia, China, and Mexico. They always enjoyed trips to Czechoslovakia where they found the villages and relatives of their ancestors, the Urbans, Anderles, Ardolfs, Pulkrabeks, and Splichals.
Eileen took pride in having an immaculate yard and garden at her farmhouse. From her lush garden, she turned grapes into jam, cucumbers into pickles, and cabbage into sauerkraut. She enjoyed tending to her sprawling flower gardens and raspberry patch. She kept her yard perfectly manicured for 56 years. She wore out 6 riding lawnmowers and ten push mowers, never letting a single weed sneak its way through.
Eileen and Ron were always on the move. Their favorite thing to do together was dance. They went Polka dancing most weekends and when they weren't dancing, they were listening to Polka music at home or watching Mollie B Polka Party on TV. Her calendar was always jam-packed as she also loved to bowl, bake, attend town festivals, volunteer at church with the CCW, throw parties, and shop. She always found the best deals!
Eileen cherished spending time with her daughters and three granddaughters, taking them on trips to DisneyWorld, Wisconsin Dells, South Dakota, and Branson, MO. She also loved hosting her grandchildren for sleepovers at the farm. She was incredibly proud of her granddaughters and never missed an occasion to celebrate them. Dr. Lindsay Penzel is a Pediatric Physician in Long Island, NY, and married Dr. Harry He in 2021. Taylor Penzel is in her fourth year of medical school in Philadelphia, PA. Jenna Zellmann is a User Experience designer at U.S. Bank and lives in Des Moines, IA.
Eileen passed away on Monday, November 14, 2022, at GlenFields Living with Care in Glencoe, MN, at the age of 83 years. Blessed be her memory.
Eileen is survived by her:
Husband, Ron Pulkrabek of Glencoe, MN;
Children, Rhonda (Rolf) Penzel of Carver, MN; Rachelle (Grant) Zellmann of Norwood, MN;
3 Granddaughters, Dr. Lindsay (Dr. Harry) He, Taylor Penzel, and Jenna Zellmann;
Sister, Marilyn (Bob) Schuette, of Glencoe, MN;
Brother, Ronald (Marilyn) Urban of New South Wales, Australia;
Sister-in-law, Evon (Pulkrabek) Anderson of Lakeville, MN;
Many nieces, nephews, and relatives.
Eileen was preceded in death by her parents, Rudolf and Myrtle (Ardolf) Urban; parents-in-law, Ted and Libby (Splichal) Pulkrabek; Brother-in-law, Terry Pulkrabek.