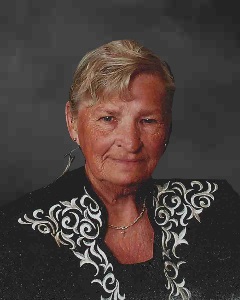 Service Information
Elaine Kuehn, age 76, of Winthrop passed away Sunday, June 12, 2022, at her home.
Graveside Service will be Friday, June 17, 2022, 1:00 P.M. at the Winthrop Cemetery.
Funeral Chapel
Dalin-Hantge Funeral Chapel
209 West Second Street
Winthrop, MN 55396
Phone:(507) 647-5326
Cemetery
The Winthrop Cemetery
Winthrop, Sibley County
Winthrop, MN
Obituary
Elaine Karen (Tock) Kuehn was born to Herbert and Myrtle (Miller) Tock on November 7, 1945, at Union Hospital in New Ulm, Minnesota. Elaine was baptized as an infant at Peace Lutheran Church in Winthrop and was later confirmed in her faith as a youth at St. John's Lutheran Church in Bismarck Township, Sibley County, Minnesota. She attended Transit Township school, a one room school house, until Winthrop High School was formed and completed 11th grade. She later received her GED. She spent many summers helping care for young cousins and elderly uncles.
On August 11, 1962, Elaine was united in marriage to Arden Kuehn. After their marriage, the couple bought a farm in Transit Township. They were blessed with four children and shared 54 years together before Arden's passing on September 29, 2016.
Elaine helped farm for 26 years with Arden. Her main responsibilities were cultivating crops and milking cows. She also worked at various places throughout the years including ADC, Hutchinson Technology, Inc., and Industrial Air where she was then delegated as Grandma to all. Elaine was an avid bowler and competed for 20 years in the Women's National League Tournaments and 25 plus years in the Minnesota Couples State Tournaments. She spent generous amounts of time with her grandchildren, including yearly camping trips to Nisswa. She was instrumental to the holidays because of her baking skills and produce grown from her own garden. Elaine also enjoyed being the family genealogist and uncovered many lost ancestry lines while keeping her books up to date with new members.
Elaine passed away on Sunday, June 12, 2022, in her home at the age of 76 years. Blessed be her memory.
Elaine is survived by her:
Children,         Robert Kuehn,
                        Kathy Hubbell, and
                        Kyle (Sarah) Kuehn;
Grandchildren, Amanda (Aaron) Bethke, Kimberly (Aaron) Reich, Stephanie, Brandon, Kayla, Autumn, Zach, and Abby Kuehn, Bennett and Everly Kuehn, and Trevor Pagel;
14 Great-grandchildren;
Sisters, Marlene (Eugene) Kuehn, Gayle (Randy) Freidrichs, and Kaylene (Delayne) Pagel;
Many other relatives and friends.
Elaine was preceded in death by her Husband, Arden Kuehn; Parents, Herbert and Myrtle Tock; Parents-in-law, Harold and Esther Kuehn; Sister, Barbara Ellen Tock; Brothers-in-law, Arlan (Gloria Kuehn-Pudewell) and Elgene Kuehn; Son, Jason Kuehn; Son-in-law, Frank Hubbell; Granddaughter, Lily Kuehn.