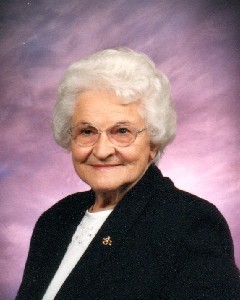 Service Information
Eleanora "Nora" Kuelbs, age 99, of Tahlequah, Oklahoma, formerly of Franklin, passed away June 15, 2015, at the Go Ye Village in Tahlequah, Oklahoma.
Mass of Christian Burial will be Thursday, July 2, 2015, 11:00 A.M. at Sacred Heart Catholic Church in Franklin with a private family interment in Birch Cooley Cemetery, Birch Cooley Township, Renville County.
Gathering of Family and Friends will be one hour prior to the service at the church on Thursday.
Visitation/Gathering
Sacred Heart Catholic Church
550 2nd Avenue E
Franklin, MN
Service
Sacred Heart Catholic Church
550 2nd Avenue E
Franklin, MN
Funeral Chapel
Hauser-Hantge Funeral Chapel
601 South Park Street
Fairfax, MN 55332
Phone:(507) 426-7274
Cemetery
Birch Cooley Two (St. Patrick's Cemetery)
Birch Cooley Township, rural Franklin, Renville County
Franklin, MN
Obituary
Eleanora "Nora" Mary (Goche) Kuelbs was born January 6, 1916, in Seaforth, Minnesota, on the family farm to Martin and Louise Goche; she was the fifth of six children. She weighed six pounds and her mother put her in a shoebox and set her on the oven door to keep her warm. One chore she like doing was carrying the nail bucket for her father while he fixed fences because he would sing to her while he worked.
She attended elementary school in Seaforth and in the sixth grade she took the state exams and did so well that she passed from sixth to eighth grade. She attended Wabasso High School and Redwood Falls High School and graduated at age 16 in 1932. She then went to Normal Teachers training and graduated in 1933, and taught school until she got married. She made $55.00 a month and that was the highest salary for a beginning teacher. Teaching was one of her great loves.
Nora met a handsome young man named Clovis Kuelbs at a dance that she attended with her brother, Lawrence in Belview. Clovis and Nora dated for a while and they were married on June 14, 1939, even though she was not quite over the mumps. She recalls that just before her wedding there had been a sale on casserole dishes at a local store and she got 13 casserole dishes at her wedding shower and used and broke every one of them through the years. She was a loving and loyal wife and mother. She was always there and was always busy. She was the first one up in the morning and the last one to bed, making sure all of the seven children were in bed. She loved teaching and loved her children. She was a hard and dedicated worker. Nora was always available to talk with, about any problems we had as children. Nora and Clovis were married for 58 years until his death in 1997. They had a good life together.
Clovis and Nora farmed in Clements, Minnesota, until 1956, when they moved to Franklin. Nora was a hard working farmers wife raising seven children. Once her children were old enough she went back to teaching and taking teaching courses and got a job teaching at a rural school in Franklin until she retired. Clovis continued to farm while Nora was teaching.
Nora liked reading, traveling, flower gardens, playing cards, especially cribbage, and crocheting.
Her sweet smile, unique sense of humor and quiet love will be missed. She passed away on June 15, 2015, at the age of 99 years. Blessed be her memory.
Nora is survived by her:
Children,           Clovis Kuelbs and his wife, Joan of Westville, OK,
                        Mary McFarland and her husband, Larry of Henderson, NV,
                        Linda Harrison and her husband, Don of Pahrump, NV,
                        Gerald Kuelbs and his wife, Susie of Douglas, AK,
                        Karen Athmann and her husband, Marvin of Shakopee, MN;
9 Grandchildren, Kim Sorenson, Jim Kuelbs, Kevin Kuelbs, John McFarland, Michelle Bursch, Sarah Pryor, Troy Harrison, Heather Loso, Matthew Athmann;
16 Great-Grandchildren;
1 Great-Great-Grandchild;
Daughter-In-Law, Eva Kuelbs of Papenburg, Germany;
Nieces, Nephews, other relatives and friends.
Nora was preceded in death by her Parents, Martin and Louise Goche; Husband, Clovis Kuelbs; Daughter, Kathleen Kuelbs; Son, Dr. Martin Kuelbs; Grandson, Scott Harrison; Siblings, Thelma Atkins, Sylvia Menke, Walter Goche, Lawrence Goche and Dennis Goche.