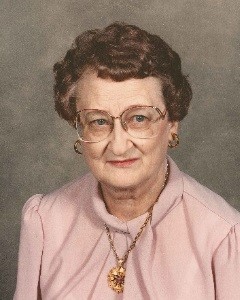 Service Information
Elizabeth "Betty" Burgstahler, age 99, of Buffalo Lake, passed away Saturday, April 4, 2015, at the Buffalo Lake Healthcare Center.
Funeral Service will be Saturday, April 11, 2015, at 11:00 A.M. at Zion United Methodist Church in Buffalo Lake, with interment in the church cemetery.
Visitation will be held Saturday for one hour prior to the service at the Church. 
Visitation/Gathering
Zion United Methodist Church
306 NW 2nd Street
Buffalo Lake, MN
Service
Zion United Methodist Church
306 NW 2nd Street
Buffalo Lake, MN
Funeral Chapel
Hughes-Hantge Funeral Chapel
311 Main Street S.
Hector, MN 55342
Phone:(320) 848-6297
Cemetery
Zion Evangelical Cemetery (Preston Lake Twp)
Renville County, Preston Lake Township
Buffalo Lake, MN
Renville
Obituary
Elizabeth Carol Burgstahler was born February 16, 1916, in Grafton Township, Sibley County, Minnesota, the daughter of John and Edith (Wehlan) Burgstahler.  She was baptized and confirmed at the Zion Evangelical Church in Buffalo Lake.  Elizabeth, known to her friends and family as Betty, grew up in Buffalo Lake, and graduated with the Class of 1935 from the Buffalo Lake High School.  She continued her education at Mankato State College where she received her B.S. Degree in Education. 
Betty taught primary grades in the following Minnesota towns:  Dunnell, Champlin, Pine Island, Winthrop, Olivia, Buffalo Lake, Le Sueur, and Redwood Falls, where she retired in May of 1976.   She remained in Redwood Falls until moving home to Buffalo Lake in December of 1994.  She enjoyed the familiarity of home, family, and friends, especially returning to her home church.                                                                  
Wherever Betty lived, she was faithful to her church.  She held membership in the Evangelical Church in Buffalo Lake, the First United Methodist Church in Redwood Falls, and the First Presbyterian Church in Redwood Falls.  She sang in the church choir at the Le Sueur Methodist Church and the Redwood Falls United Methodist Church.  She was a member of the First Presbyterian Session from 1988 through 1990, and served three years on the Goodwill and funeral committees.  She was also active with church Circles.  Betty also did volunteer work for the United Senior Citizens of Redwood Falls. She renewed her membership at Zion United Methodist Church upon her return to Buffalo Lake.
Music was of special interest to Betty.  She enjoyed playing the piano and electronic organ at home and at BLHC, and could play by ear and by note.  She was an extensive reader.  She loved to travel.  By motor coach, she traveled throughout the United States, and also took several Canadian tours.  She was a good cook, and liked to listen to the TV.
When Elizabeth needed additional assistance with her daily care, she became a resident of the Buffalo Lake Healthcare Center on December 13, 2012.    On Saturday evening, April 4, 2015, she passed away there, having reached the age of 99 years.  Blessed be her memory.
Betty was survived by her Nieces and Nephews, many Great-Nieces and Great-Nephews, and Great-Great-Nieces and Great-Great-Nephews.
She was preceded in death by her Parents, Edith and John Burgstahler, Sisters: Hazel Marjorie and Marion Eloise; Half-Sisters: Alice, Edith, Mildred, Grace, Luella, Estelle, and Hildred; Half-Brothers, Herbert and Howard.