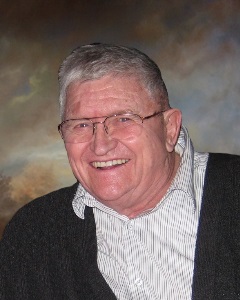 Service Information
Ellsworth Sather, age 90, of Franklin, Minnesota, passed away surrounded by family on Saturday, April 8, 2023, at Cedar Heart Homes in Franklin following a 15-year progressive struggle with Lewy body dementia.
Memorial Service will be Saturday, April 22, 2023, 2:00 P.M. at Central Lutheran Church, Camp Township, Renville County, Minnesota, with interment in Zion Lutheran Cemetery, Bandon Township, Renville County, Minnesota, at a later date.
Gathering of Family and Friends will be from 12:30 P.M.-2:00 P.M., ALL at church.
Military Honors by the Fairfax Honor Guard.
Visitation/Gathering
Central Lutheran Church
64268 430th Street
Franklin, MN
Renville
Service
Central Lutheran Church
64268 430th Street
Franklin, MN
Renville
Funeral Chapel
Hauser-Hantge Funeral Chapel
601 South Park Street
Fairfax, MN 55332
Phone:(507) 426-7274
Cemetery
Zion Lutheran Cemetery (Bandon Twp)
Bandon Twp, rural Fairfax, Renville County
Fairfax, MN
Obituary
Ellsworth Obert Sather was born on September 10, 1932, in rural Franklin, Minnesota, to Obert and Esther (Benson) Sather. He was baptized and confirmed at Zion Lutheran Church which later merged to form Central Lutheran Church. Ellsworth was very involved at Central Lutheran in numerous roles including council president, deacon, trustee, men's group, and Sunday school teacher.
He was raised on the family farm near Franklin where he attended country school…walking uphill both ways! He later attended Franklin High School, graduating in 1950. Following high school, he was drafted into the U.S. Army during the Korean War and attained the rank of corporal in the Fifth Armored Division at Camp Chaffee, Arkansas, where he trained new recruits in combat skills. Ellsworth was selected for Officer's Candidate School, but his heart was always in farming, and he chose to return to the family farm in Franklin after being honorably discharged in 1952.
Ellsworth was united in marriage to Patricia Lee on March 23, 1963. Together they raised four children and enjoyed over 60 cherished years together, mostly on the family farm. Ellsworth loved spending time with family, especially camping vacations, water skiing, fishing, hunting, and cherished moments with his children, grandchildren, and great-grandchildren.
During his time farming, Ellsworth enjoyed raising cattle, and a variety of crops, but corn was his favorite. When he became a dealer for Keltgen Seed Company, he began measuring corn daily and tracking its growth on roadside charts for others to see, even attracting the attention of the TV show On the Road with Jason Davis.
Ellsworth used to say, "It's not what you do for yourself, but what you do for others that counts." He was always willing to lend a helping hand and was committed to volunteering and giving back to the community as president of Lutheran Brotherhood, Valley Branch #8477 for 20 years. Ellsworth found joy in working with others to accomplish projects including building playground and recreational equipment at Fort Ridgely State Park and raising money for area fire departments by running a food stand at Fort Ridgely and then Farm Fest for many years.
Ellsworth lived a full wonderful life, positively affecting more people than he ever knew. We will remember the twinkle in his eye, the smile on his face, and his way of making life more fun!
Ellsworth is survived by his:
wife,                 Patricia Sather of Franklin, MN;
four children,     Debra (Kevin) Kokesch of Franklin, MN,
Kristi (Victor) Buysse of Franklin, MN,
Gregory (Kimberly) Sather of New Prague, MN, and
Todd (Amy) CarlsonSather of Eau Claire, WI;
10 grandchildren, Ashley Kokesch, Brittany (Kory) Schneider, Tanner Kokesch, Benjamin (Honey) Buysse, Cassandra (Robert) Carrascosa, Angel Buysse, Joshua Buysse, Ariana Buysse, Kiana CarlsonSather, and Brendon CarlsonSather;
10 great-grandchildren;
brother and sisters: David (Sylvia) Sather of Franklin, MN, Janet Massen of St. Louis Park, MN, and Ruth Sorenson of Hickory, NC;
nieces, nephews, relatives, and friends.
Ellsworth was preceded in death by his parents; sisters and brothers-in-law: Doris and Grant Heinemann, Sylvia and Luther Anderson, John Massen, and John Sorenson; and niece Janice Heinemann.