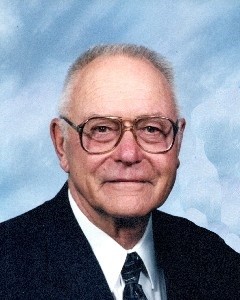 Service Information
Emil Stoll, age 88, of Fairfax passed away Tuesday, September 13, 2016, at the Fairfax Community Home in Fairfax. 
Funeral Service will be Saturday, September 24, 2016, 11:00 A.M. at Emanuel Lutheran Church, Wellington Township, Renville County, Minnesota, with interment in the Redwood Falls City Cemetery in Redwood Falls, Minnesota, at a later date. Military Honors by the Fairfax Honor Guard.
Visitation will be Friday, September 23, 2016, from 4:00 P.M.-7:00 P.M. at the Hauser-Hantge Funeral Chapel in Fairfax. Visitation will continue one hour prior to the service at the church on Saturday.
Visitation/Gathering
Hauser-Hantge Chapel
601 South Park Street
Fairfax, MN
Website:hantge.com
Service
Emanuel Lutheran Church - Wellington Township
68364 CR 27
Fairfax, MN
Funeral Chapel
Hauser-Hantge Funeral Chapel
601 South Park Street
Fairfax, MN 55332
Phone:(507) 426-7274
Cemetery
Redwood Falls Cemetery
Redwood Falls, MN
Obituary
Emil Stoll was born on January 17, 1928, in White Butte, South Dakota. He was the oldest of five children of Gottlob and Emilie (Pfeifle) Stoll. Emil was baptized as an infant and was later confirmed in his faith. He received his education at the local country school until age 11, when the family moved to Redwood Falls, Minnesota. He was a graduate of the Redwood Falls High School. Emil attended the University of Minnesota.
On April 4, 1946, Emil enlisted in the United States Navy and served his country during World War II. He received the World War II Victory Medal. Emil was Honorably Discharged on January 25, 1947.
On October 29, 1949, Emil was united in marriage to Mabelle Hansvick at the E.E. Hansvick Farm in Vesta, Minnesota. After their marriage, the couple resided in Redwood Falls, Walnut Grove, and Courtland, Minnesota, El Cajon, Hanford, Crescent City Arcata, and Fallbrook California. Emil was employed as a farmer, salesman for Farmer Magazine, Hi-Line Chickens and construction. This union was blessed with seven children and Emil and Mabelle shared 66 years of marriage.
Emil was a member of Emanuel Lutheran Church, Wellington Township, Renville County, Minnesota. He was also a member of the American Legion Post #205 and the VFW Post #8459 in Fairfax.
Emil enjoyed beekeeping. He cherished the time he spent with his family, especially his children, grandchildren and great-grandchildren.
When he needed assistance with his daily care, Emil became a resident of the Fairfax Community Home on February 2, 2012, and passed away there on Tuesday, September 13, 2016, at the age of 88 years. Blessed be his memory.
Emil is survived by his:
Wife, Mabelle Stoll of Fairfax, MN,
Children, Dwight Stoll of Cove, AR,
Billy Dean (Cheryl) Stoll of Fairfax, MN,
Brenda Miller and special friend, Reed Hancock of Oceanside, CA,
Pastor Steven (Paula) Stoll of Hinton, IA,
Charles (Gail) Stoll of Omaha, NE, and
Patti Stoll of Fairfax, MN;
Grandchildren, Dwight R. (Kim) Stoll II, Barrett (Amanda) Stoll, Bradley Stoll and special friend, Esther, Bryan Stoll, Kathryn Stoll, Ryan (Nicole) Miller, Amanda (Zac) Markham, Joshua (Caredy) Stoll, Jacob Stoll, Rebekah (Chris) Ohlde, Joseph Stoll, Michael (Jenny) Stoll;
25 Great-Grandchildren;
Siblings, Ruth (Daryl) Nemitz and MaryAnne Neumann;
Nieces, Nephews, other relatives and friends.
Emil was preceded in death by his Parents, Gottlob and Emilie Stoll; Step-Mother, Elisabeth Stoll; Daughter, Emily Stoll; and Siblings, Walter Stoll and Kurt Stoll.