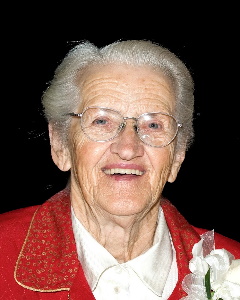 Service Information
Emma Henderson, age 95, of rural Glencoe, Minnesota, passed away on Sunday, August 14, 2022, at her home.
Funeral Service will be held on Saturday, August 20, 2022, at 10:30 A.M. at the Dan Henderson Farm, 83864 Co. Rd 16 Hector, Minnesota 55342, with interment in Hector City Cemetery.
Visitation will be held one hour prior to the service at the Dan Henderson Farm in Hector.
Visitation/Gathering
Service
Funeral Chapel
Hughes-Hantge Funeral Chapel
311 Main Street S.
Hector, MN 55342
Phone:(320) 848-6297
Cemetery
Hector City Cemetery
Renville County, Hector Township, Section 32
Hector, MN
Obituary
Emma was born near Kandiyohi, Minnesota on January 27, 1927, to Maint and Leona (Naber) Huisman. She grew up in the area and attended a rural school there and another near Rosendale. Emma worked at the Woolen Mills in Litchfield and 3M in Hutchinson prior to marrying Paul Henderson August 20, 1954. They farmed north of Hector until moving to a farm northwest of Glencoe in 1963.
Emma's daughter cared for her the last few years in Silver Lake with the gracious help of her husband. Allina Hospice provided wonderful support the last two months. Such care and love is greatly appreciated by all the family.
Emma loved her family and remained very close to her siblings. She raised her children on the bounty of her gardens and planted the edges with zinnias and marigolds. She was practical, curious, and interested in everyone she met. Above all, her faith sustained her throughout her lifetime. Emma's family thanks everyone for their kind expressions of sympathy.
She is survived by her four children: Owen (Susan) of Albuquerque NM, Vivian Murphy (Doug) of NM, Curt (Patty) of Minnetrista, Doug (Roxane) of Glencoe, 12 grandchildren: Rorke Murphy of White Rock NM, Ben (Heather) Henderson of Phoenix AZ, Creede (Lisa) Murphy of San Diego CA, Dan (Gina) Henderson of Hector, Amber (Gary) Accola of Wilson Wi, Lichen (Ken) Braaten of Kalispell MT, Rachel (Damon) Olson of Lino Lakes, Derek (Elisabeth) Henderson of Ellensburg WA, Talus Murphy of Albuquerque NM, Brooke Henderson of Glencoe, Echo (Sam Thomas) Murphy of Abergavenny Wales, Tyler (Kendi) Henderson of Tulia TX 18 ½ great-grandchildren, one brother, Wilfred (Geraldine) of Litchfield, one sister, Laura Wilkerson of Bloomington, and a sister-in-law Ruth Henderson of Amarillo TX.
Emma was preceded in death by her husband Paul, her parents, two brothers William and George, and five sisters Freda Huisman, Mary Huisman, Martha Huisman, Esther Pratt, and Lois Larson.