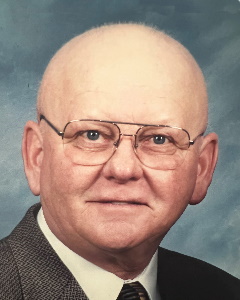 Service Information
Erling F. Danielson, age 85, of rural Franklin, Minnesota, passed away on Saturday, May 14, 2022, at Rice Memorial Hospital in Willmar, Minnesota.
Memorial Service will be held on Saturday, May 21, 2022, at 11:00 A.M. at Swedlanda Lutheran Church, Palmyra Township, rural Hector, Minnesota, with interment following in the church cemetery.
Gathering of Family and Friends will be held one hour prior to the service at the church.
Visitation/Gathering
Swedlanda Lutheran Church
73950 CR 16
Palmyra Township, rural Hector , MN
Renville
Service
Swedlanda Lutheran Church
73950 CR 16
Palmyra Township, rural Hector , MN
Renville
Funeral Chapel
Hughes-Hantge Funeral Chapel
311 Main Street S.
Hector, MN 55342
Phone:(320) 848-6297
Cemetery
Swedlanda Lutheran Cemetery (Palmyra Twp)
73950 CR 16
Palmyra Township, MN
Renville County
Obituary
Erling Fredric Danielson was born on April 9, 1937, at the Swedish Hospital in Minneapolis, Minnesota. He was the son of Oliver and Anna Mary (Reinschmidt) Danielson. Erling was baptized as an infant on May 9, 1937, and was later confirmed in his faith as a youth on October 7, 1951. He received his education in Bird Island Lake Lillian, and was a graduate of the Bird Island Lake Lillian High School Class of 1955.
Erling joined the United States Navy in the spring of 1955, at Minneapolis, MN. He began active service on January 14, 1957 where he served in the South Pacific. Erling received an Honorable Discharge on March 25, 1963, at USS Lexington (CVA-16) at Alameda, CA, and achieved the rank of Airman.
On November 2, 1957, Erling was united in marriage to LaVaun L. Lewerenz at Trinity Episcopal Church in Litchfield, MN. This marriage was blessed with two children, Laura and Erling "Mitchell". Erling and LaVaun resided in rural Franklin on their farm. They shared 64 years of marriage.
Erling farmed in Palmyra Township from 1959 until 1999. He continued to work in the fields farming for fellow neighborhood farmers until 2021. He was proud to own a Century Farm. Erling proudly served on the Fairfax Co-op Elevator Board and Swedlanda Evangelical Lutheran Church Council.
Erling was a member of the Hector Sliders, participating in competitive downhill skiing. Some of his favorite memories were the annual ski club trips out west. He participated in the Trans-Superior International Yacht Race. Erling had many aspiring activities: skiing, both water and snow, sailing and power boat cruising. He was a licensed Scuba Diver. Erling enjoyed hunting, fishing (both ice spear fishing and summer angling), woodworking, playing cards, crosswords puzzles, travel, playing tennis, and conversation with family, friends, and even strangers. He enjoyed trips with family and friends, often traveling the United States by camper, internationally by plane, and the Great Lakes by sailboat and oceans by Naval ships.
Erling will be deeply missed by his family and friends. He was a great listener and concise communicator. He had a welcoming smile and his wisdom was accepted by all.
Erling was a valiant survivor of cancer for over 25 years that finally ended after a short battle with Leukemia, on Saturday, May 14, 2022, surrounded by his loving family at Rice Memorial Hospital in Willmar, Minnesota, at the age of 85 years.
Blessed be his memory.
Erling is survived by his:
Wife, LaVaun Danielson of rural Franklin, MN;
Daughter, Laura Danielson of Minneapolis, MN;
Son, Erling "Mitchell" Danielson and his wife, Mary of Coon Rapids, MN;
Grandchildren, Christianna Danielson and Samantha Danielson;
Many other relatives and friends.
Erling is preceded in death by his Parents, Oliver and Anna Danielson; Sister, Lyndall Russel; Grandson, Hunter Danielson.