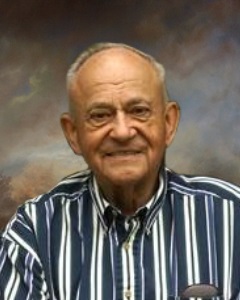 Service Information
Ernest Dapper, age 89, of Hutchinson passed away Sunday, October 23, 2022, at Hutchinson Health in Hutchinson.
Funeral Service will be Friday, October 28, 2022, 11:00 A.M. at the Apostolic Christian Church in Winthrop with interment in the Winthrop Cemetery.
Visitation will be Friday, October 28, 2022, from 9:00 A.M.-11:00 A.M. (2 hours prior to the service) all at church.
Military Honors by the Winthrop Honor Guard.
Memorials preferred to the Apostolic Christian Church.
Visitation/Gathering
Apostolic Christian Church
1006 N Carver Street
Winthrop, MN
Service
Apostolic Christian Church
1006 N Carver Street
Winthrop, MN
Funeral Chapel
Dalin-Hantge Funeral Chapel
209 West Second Street
Winthrop, MN 55396
Phone:(507) 647-5326
Cemetery
The Winthrop Cemetery
Winthrop, Sibley County
Winthrop, MN
Obituary
The Heart of a father who loves and serves God, is made complete in the eyes of his children.
Ernest "Ernie" Daniel Dapper was born on October 11, 1933 in Maywood California.  He was the son of John and Julia (Erhart) Dapper.  Ernest was baptized as an adult at the Apostolic Christian Church in Maywood, California.
In March of 1953, at the age of 19, Ernest was inducted into the United States Army on "Armed Forces Day" serving during the Korean War.  While stationed in Hawaii he married Marcelle Joan Messner of Gibbon, Minnesota on October 9th, 1954.  He kept contact with fellow Apostolic Servicemen through Camp Picket Reunions that were held annually across the United States.
After their marriage and his discharge from the Army, the couple resided in La Mirada and then Maywood, California.  Ernest continued his career with Ralphs Grocery where he was promoted to management.  He continued to be employed by Ralphs Grocery until 1973 when he relocated his family to Gibbon, Minnesota.  The couple purchased a small-town grocery store and renamed it Dapper's Mercantile.  That was an eight-year family adventure where each family member was employed.  In 1982 Ernest went back to school to get a Non-Destructive Testing Degree from Ridgewater Area Vocational School.  Moving to Elgin, Illinois he continued his work in sales - this time with large film processing equipment. His first employer was Test Equipment Distributors.  In 1986 he began his work with Fuji Pyne NDT, selling in a five-state area.  He retired in 2001 at the age of 70 years old.
Ernie and Marcelle recently celebrated their 68th year of marriage.  This union was blessed with four children:  Craig, Brian, Patti, and Paula.
Ernie always dreamed of building a log home and settling on a lake.  In 1999 that dream became a reality on Lake Hook north of Hutchinson.  Hosting family gatherings, spending time on his lawn mower, and taking care of the many trees is what he enjoyed most.  Ernie and Marcelle loved to travel and wintered in Phoenix, Arizona from 2005-2020.  We are thankful for the spiritual heritage he passed down to our family and realize what a blessing it is to be raised in a Christian home.  His love for hymns of the faith, song leading at church, and teaching bible class students were some of his passions.  If you played Bible Trivia - you wanted him on your team.
Ernest passed away on Sunday, October 23, 2022.  His wisdom, wealth of information, and stories will be dearly missed by all that knew and loved him.  Blessed be his memory.
He is survived by his loving wife Marcelle. 
Children:    Craig Dapper and his wife Holly of Hutchinson, MN
Brian Dapper and his wife Roberta of Lakeville, MN
Patti Kaminsky and her husband Larry of Dassel, MN
Paula Carlson and her husband Scott of Brooklyn Park, MN
His legacy includes nine Grandchildren:  Gina (Brian) Stowell, Jesse Dapper, Nathan (Brigitte) Dapper, Josiah Kaminsky, Anya Kaminsky, Jared Carlson, Laura (Eshban) Serosh, Dylan Carlson, and Alicia Carlson
Seven Great Grandchildren:   Matthew, Isaac and Benjamin Dapper, Adalyn and Oaklyn Stowell, Haven Dapper and Micah Serosh
In Ernest's immediate family he was preceded in death by his parents, John and Julia Dapper; siblings Johnny, Dale, and JulieAnn.  He is survived by his sisters Lavina Muelhauser and Christine Locher. 
We would like to thank the employees of Cedar Crest Assisted Living of Silver Lake who have cared for our father for the past year and a half.
No individual acknowledgements will be sent.  Thank you for sharing this day with us, remembering Ernie, and celebrating a life well lived.
 "I have fought a good fight, I have finished my course, I have kept the faith. . ."  2 Timothy 4:7