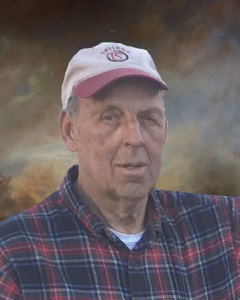 Service Information
Eugene Boyum, age 84, of Fairfax passed away Monday, June 20, 2022, at Centracare in Redwood Falls.
Memorial Service will be Thursday, July 14, 2022, 11:00 A.M. at Central Lutheran Church in Camp Township, rural Franklin, Minnesota.
Gathering of Family and Friends will be one hour prior to the service at the church on Thursday.
Military Honors by the Fairfax Honor Guard.
Visitation/Gathering
Central Lutheran Church
64268 430th Street
Franklin, MN
Renville
Service
Central Lutheran Church
64268 430th Street
Franklin, MN
Renville
Funeral Chapel
Hauser-Hantge Funeral Chapel
601 South Park Street
Fairfax, MN 55332
Phone:(507) 426-7274
Cemetery
Hauges Cemetery (Camp Twp)
Camp Township, rural Franklin, MN
Franklin, MN
Obituary
Eugene Leroy Boyum was born on May 17, 1938, in Camp Township, Renville County, Minnesota. He was the son of Leonard and Jeanette (Mundahl) Boyum. Eugene was baptized as an infant  on June 5, 1938, and was later confirmed in his faith as a youth on June 7, 1953, both at Central Lutheran Church in Camp Township, where he was a lifelong member. He received his education in Fairfax and was a graduate of the Fairfax High School Class of 1957.
Eugene served his country in the United States National Guard from 1961 until his Honorable Discharge on March 5, 1967. He achieved the rank of Sergeant E5 and Rifle Team Leader.
On January 30, 1963, Eugene and Lois Allen eloped and were married at the parsonage of the Covenant Church in Hector, Minnesota. After their marriage, the couple resided in the parsonage of Central Lutheran Church, rural Franklin, where the couple also farmed for Pastor Hanson.
Eugene was a farmer, which he loved. He was born on the Boyum farmstead, like his father Leonard, and resided there his last 12 years. He lived in the original log house, which became a "Century Farm" in 1968. As a young boy, he helped on the farm and eventually took over farming from his dad. He also had a side business doing various mechanic work under the name "Boyum Repair." Eugene loved to tinker and fix things and could repair almost anything.
In the early 1990's, Eugene moved to Louisiana where he worked as a mechanic for Professional Divers of New Orleans. In 2010, he moved back to Fairfax and helped his cousin Jim Boyum with his farming. He also continued to repair cars, trucks and various equipment for family, neighbors and friends. Eugene also had the "gift of gab" and enjoyed visiting with people and learning more about them.
Eugene enjoyed spending time with his children, especially his grandchildren, Nathan and Laura. He even helped his grandson Nathan with an engine and transmission swap!
Eugene passed away on Monday, June 20, 2022, at Centracare in Redwood  Falls, Minnesota, at the age of 84 years. Blessed be his memory.
Eugene is survived by his:
Children,          Sheila Thalhuber and her husband, Kevin of Vadnais Heights, MN,
                        David Boyum of Hopkins, MN, and
                        Dennis Boyum of Fairfax, MN;
Grandchildren, Nathan Thalhuber and fiancé, Mari Senstad, and Laura Thalhuber;
Sister, Lila Strand of Plymouth, MN;
Brother, Steve Boyum of Minneapolis, MN;
Other relatives and friends.
Eugene was preceded in death by his Parents, Leonard and Jeanette Boyum; Brother-in-law, Gordon Strand.