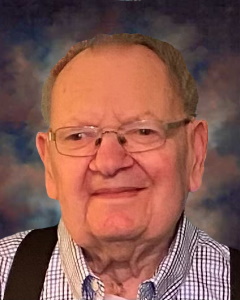 Service Information
Eugene E. Duesterhoeft, age 92, of Hutchinson, Minnesota, passed away on Sunday, June 12, 2022, at Harmony River Living Center in Hutchinson.
Private Family Memorial Service will be held.
Funeral Chapel
Dobratz-Hantge Funeral Chapel
899 Highway 15 South
Hutchinson, MN 55350
Phone:(320) 587-2128
Obituary
Eugene Edwin Duesterhoeft was born on March 19, 1930, in Stewart, Minnesota. He was the son of Edwin and Lena (Schroeder) Duesterhoeft. Eugene was baptized as an infant and later confirmed in his faith as a youth at Zion Lutheran Church in Lynn Township. He received his education in Hutchinson, Minnesota, and was a graduate with the Hutchinson High School class of 1951.
On October 8, 1961, Eugene was united in marriage to Shirley Pautzke at Our Savior's Lutheran Church in Excelsior, MN. This marriage was blessed with four children, Lori, Carrie Ann, Vicki, and Scott. Eugene and Shirley resided in Hutchinson during their 61 years of marriage.
In his younger years, Eugene farmed with his father on the family farm and later was employed as a custodian for the Hutchinson Public School System for 30 years. He always talked fondly of his work and the people he worked with and each student he encountered.
With his young family in tow, Eugene and his wife Shirley traveled across the United States for numerous family vacations. These cross-country trips never went as planned, as luck was never on their side. But with each misadventure and mishap, the laughter, smiles and zest for fun made for life-long memories. Eugene enjoyed his retirement years by drawing, painting, woodworking, "putzing" in the flower and vegetable garden and feeding his family of birds. He especially enjoyed doting on his wife, spending time with his family, grandchildren, great grandchildren, and friends. He had a soft heart for his furry family members, and you could always find a cat on his lap or near him. He will be remembered for his kind and gentle demeanor, his amazing ability to talk anyone's ear off, his quick deadpan humor and the amazing twinkle in his eyes that always made you wonder what he was up to.
Eugene passed away on Sunday, June 12, 2022, at Harmony River Living Center in Hutchinson, at the age of 92 years.
Blessed be his memory.
Eugene is survived by his wife, family and everyone that loved him.
Eugene is preceded in death by his Parents, Edwin and Lena Duesterhoeft; Daughter, Carrie Ann (in infancy); Step-mother, Ruth Duesterhoeft, Brother-in-law, Darwin Pautzke.