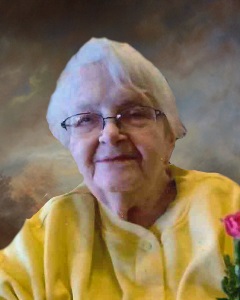 Service Information
Eunice Trout, age 94, of Gaylord passed away Saturday, July 2, 2022, at Bayside Manor in Gaylord.
Funeral Service will be Wednesday, July 6, 2022, 11:00 A.M. at St. Paul's Lutheran Church in Gaylord with interment in the church cemetery.
Visitation will be one hour prior to the service at the church on Wednesday.
Visitation/Gathering
St. Paul's Lutheran Church
513 Main Avenue
Gaylord, MN
Service
St. Paul's Lutheran Church
513 Main Avenue
Gaylord, MN
Funeral Chapel
Egesdal Funeral Home
74 Main Avenue
Gaylord, MN 55334
Phone:(507) 237-2388
Cemetery
St. Paul's Lutheran Cemetery (Gaylord)
Gaylord, MN
Obituary
Eunice Audrey Trout was born on December 23, 1927, in Tyler, Minnesota. She was the daughter of Anton and Christina (Larsen) Jorgensen. Eunice was baptized as an infant in February of 1928, and was later confirmed in her faith as a youth on May 10, 1942, both at Danebod Lutheran Church in Tyler, Minnesota. She received her education in Tyler and was a graduate of the Tyler High School Class of 1946. After graduation Eunice moved to Gaylord with friends to work. She was employed at Hank and Katie's Café as a waitress. This is where she met Fred.
On May 25, 1952, Eunice was united in marriage to Fredrick Trout at the Danebod Lutheran Church in Tyler, Minnesota. After their marriage, the couple resided in Gaylord. Eunice and Fred were blessed with two daughters, Arlynne and Lori. Eunice and Fred shared 56 years of marriage before Fred passed away on March 3, 2009.
Eunice was a loving wife and homemaker; her family always came first. She spent many hours in her kitchen cooking meals and baking for her family. No one could bake a homemade Angel Food cake like hers. At Christmas time there were endless trays of cookies and homemade candies and of course her famous fudge. Another favorite is her Green Bean Soup.
Eunice was a member of St. Paul's Lutheran Church in Gaylord. She spent countless hours volunteering her time as a Sunday School teacher. She did janitorial work, made and hung the banners for different occasions with  the help of her husband, Fred. She also organized salad luncheons and prepared and served meals for funerals. Eunice also served as president, secretary, and stewardship secretary of Naomi Circle and stewardship secretary of the ELCA at St. Paul's. Eunice and Fred also volunteered many hours delivering Meals on Wheels for the community. Eunice also volunteered weekly at the nursing home, assisting residents with activities. Eunice was also employed at the Gaylord Public School as a cook, retiring on January 11, 1994.
Eunice also enjoyed bowling in her younger years. She belonged to a woman's league in Gaylord where she bowled weekly. Bingo was another favorite of hers, even if she didn't win. Eunice cherished the time she spent with her family, especially her children, grandchildren and her great-grandchildren. Just the week before her death she was able to enjoy watching all 11 of her great-grandchildren at the Gaylord pool.
When Eunice needed assistance with her daily needs, she became a resident at the assisted living on December 7, 2011, and later became a resident of Bayside Manor where she passed away on Saturday, July 2, 2022, at the age of 94 years. Blessed be her memory.
Eunice is survived by her:
Daughters,       Arlynne (Larry) Hoffmann of Nicollet, MN, and
                        Lori (Mike) Schroeder of Cottage Grove, MN;
Grandchildren, Angie (Mark) Voges, Doug (Rachel) Hoffmann, Nick (Megan) Hoffmann, Joe (Erika) Hoffmann;
Great-grandchildren, Abby, Blake, Cole and Claire Voges, Emma and Ellie Hoffmann, McKinlee and Rylee Hoffmann, Kaden Stueber, Madden and Mack Hoffmann;
Step grandson, Tim Schroeder and special friend, Heather Mathe;
Step great grandchildren, Kylee and Brayden Schroeder;
Sister-in-law, Carol Trout of Gaylord, MN;
Nieces, nephews, other relatives and friends.
Eunice was preceded in death by her Parents, Anton and Christina Jorgensen; Husband, Fredrick Trout; Siblings, Myrtle Thoreston, Erma Rudebusch, Vera Renville, Irvin Jorgensen, Lloyd Jorgensen, and Wallace Jorgensen.