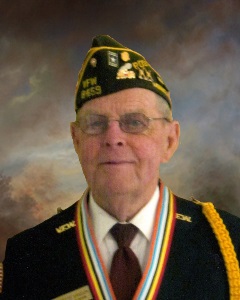 Service Information
Everett Hanson, age 94, of Fairfax passed away Saturday, March 18, 2023, at Cedar Heart Homes in Franklin.
Memorial Service will be Monday, June 5, 2023, 2:00 P.M. at Emanuel Lutheran Church, Wellington Township, Renville County, Minnesota, with interment in the church cemetery.
Gathering of Family and Friends will be one hour prior to the service at the church on Monday.
Military Honors by the Fairfax Honor Guard.
Memorials preferred.
Visitation/Gathering
Emanuel Lutheran Cemetery (Wellington Twp)
68364 C.R. 27, Fairfax, MN 55332
Fairfax, MN
Service
Emanuel Lutheran Cemetery (Wellington Twp)
68364 C.R. 27, Fairfax, MN 55332
Fairfax, MN
Funeral Chapel
Hauser-Hantge Funeral Chapel
601 South Park Street
Fairfax, MN 55332
Phone:(507) 426-7274
Cemetery
Emanuel Lutheran Cemetery (Wellington Twp)
68364 C.R. 27, Fairfax, MN 55332
Fairfax, MN
Obituary
Everett Burdett Hanson was born on July 20, 1928, in Fairfax, Minnesota. He was the son of Erland and Bernice (Larson) Hanson. Everett was baptized as an infant on August 19, 1928, by Reverend Thomas Hanson and was later confirmed in his faith as a youth on September 17, 1942, at Central Lutheran Church, Camp Township, rural Fairfax. He attended District #66 School and graduated in 1943, and from Fairfax High School in 1947. Everett loved music, and played coronet in the school band. He later joined a quartet called the "Happy Bachelors". In addition to the cornet, he was a self-taught concertina player and enjoyed playing at nursing homes and other gatherings, and as a member of the Sleepy Eye Concertina Club, where he performed with the group at many venues, including the popular KEYC Bandwagon.
Everett was first employed in 1948 by George Nelson, the International tractor and implement dealer. He worked there until he was drafted into the United States Army, where he entered active military service on February 22, 1951, and served his country during the Korean War. He was Honorably Discharged on November 21, 1952, having achieved the rank of sergeant. After his return from service, Everett was employed at Zackman IHC for one year.
On January 21, 1951, Everett was united in marriage to Arlyn E. Fritz at Emanuel Lutheran Church in Wellington Township. Everett and Arlyn lived in Gibbon after their marriage. In 1954, the couple moved to Bandon Township where they began farming. This marriage was blessed with two children, LeAnn and Gary. On July 15, 1990, they moved to Fairfax. The two shared 54 years of marriage together, until Arlyn passed away on June 20, 2005.
Everett was a member of Emanuel Lutheran Church in Wellington Township, and served on the Emanuel school board and church council for many years, and also sang in the church choir. With the Fairfax VFW, Everett was a lifetime member, serving as an adjutant for 23 years, and as a member of the Honor Guard.
In the company of family and friends he was most content, and always had a story or joke to tell and many pictures to share. Everett had a rare and enduring sense of humor, and a good nature that put those around him at ease. He was also an avid collector, whose interests extended to antique items such as license plates, belt buckles, pens, and a range of other unique items. When presented with a mechanical problem he had a quiet intensity, and could fix just about anything before him, and so had a passion for restoring old vehicles, tractors, and even a Cushman scooter. Everett enjoyed being in parades, and was in every Catfish Days parade, either driving one of his old vehicles, or marching with the VFW unit. 
When Everett needed assistance with his care, he became a resident of Cedar Heart Homes in Franklin and passed away there on Saturday, March 18, 2023, at the age of 94 years. He will be missed, and blessed be his memory.
Everett is survived by his children, LeAnn Hanson of Fairfax, MN, and her special friend, Jerome Krzmarzick of New Ulm, MN; and Gary Hanson and his special friend, Deb Nelson of Fairfax, MN. Grandchildren, Sarah Bunkers (Josh) of Fairfax, MN, and David Hanson (Stephanie) of Fairfax, MN. Great-grandchildren, Katelyn Bunkers, Grace Bunkers, Tyler Bunkers, and Kiara Hanson. Brother, Lawrence Hanson (Sharon) of Fairfax, MN. Special friend, Faith Bock of Fairfax, MN. Many nieces, nephews, extended relatives and friends.
Everett was preceded in death by his parents, Erland and Bernice Hanson. Wife, Arlyn Hanson. Sister and brother-in-law, Lillian and Clayton Finstad. Father-in-law and mother-in-law, Elmer and Esther Fritz. Brother-in-law and sister-in-law, Lloyd and Norma Fritz. Daughter-in-law, Lorene Hanson. Great-grandson, Jonah Hanson. Nephews, baby boy Finstad, and James Fritz. Nieces, Peggy Adams and Bonnie Finstad.