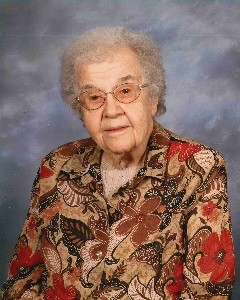 Service Information
Florence Hovda, age 104, of Hutchinson, formerly of Brownton, passed away Tuesday, February 7, 2017, at Harmony River Living Center in Hutchinson.
Funeral Services will be held Saturday, February 11, 2017, at 11:00 A.M. at Bethlehem United Methodist Church in Hutchinson with interment in Sumter Cemetery in Sumter Township, Minnesota.
Visitation will be held on Saturday one hour prior to the service at Bethlehem United Methodist Church.
Arrangements are with the Dobratz-Hantge Funeral Chapel in Hutchinson.
Visitation/Gathering
Bethlehem United Methodist Church
665 Miller Avenue SW
Hutchinson, MN
Service
Bethlehem United Methodist Church
665 Miller Avenue SW
Hutchinson, MN
Funeral Chapel
Dobratz-Hantge Funeral Chapel
899 Highway 15 South
Hutchinson, MN 55350
Phone:(320) 587-2128
Cemetery
Sumter Cemetery
Sumter Township, rural Brownton, McLeod County
Sumter, MN
Obituary
Florence Catherine Hovda was born on May 27, 1912, in Sumter Township, McLeod County, Minnesota. She was the daughter of Simon and Louisa (Schmidt) Schwarze. Florence was baptized on June 30, 1912, by Rev. A. Biebughuser, and she was later confirmed in her faith on June 22, 1924, by Rev. J. Solum, both at Sumter Methodist Church. She first attended country school in District 26 for Grades 1-8. Florence was the first of her family to attend high school, the Brownton High School, and she was a graduate of the Class of 1930. She furthered her education in Glencoe and graduated from teacher training in 1931.
On August 5, 1933, Florence was united in marriage to Reuben Klopfleisch at Sumter Methodist Church in Brownton. This marriage was blessed with three children: Glen, Janet, and Kay. Florence and Reuben resided on their farm in rural Brownton. They shared twenty-one years of marriage until Reuben passed away on December 29, 1954.
On January 31, 1958, Florence was united in marriage to Glenn Hovda at a Baptist church in St. Paul, Minnesota. Florence and Glenn resided in Hutchinson and operated Glenn's Salvage Store, from which they retired in the 1960s. They shared sixteen years of marriage until Glenn passed away in October 1974.
In addition to being a loving mother and homemaker, Florence was very active in community activities.  While raising her children she was involved in the Brownton PTA, in which she was a charter member and served as secretary. She always encouraged and helped with projects at her children's school and in 4-H. She was also active with the McLeod County Home Extension programs.
Florence's faith was very important to her, and she always ensured that her family was in church every Sunday. She was a member of the Sumter Methodist Church and then the Brownton Methodist Church, until it closed in 1997. Florence then became a member of Bethlehem United Methodist Church in Hutchinson. She was a member of the Women's Foreign Missionary Society, the WSCS (Woman's Society of Christian Service), and the United Methodist Women. She held various offices and presented programs many times to all groups.
Florence was a very creative person. She enjoyed reading, sewing, crocheting, and crafts of many kinds. She made beautiful quilts for every family member as well as many other special friends and relatives. Florence also enjoyed beadwork and making dishtowels, rag rugs, braided rugs, and sewing and crocheting clothing for dolls. Many of these items she entered into the county fair, where she won countless ribbons. Florence especially enjoyed spending time with her family, grandchildren, great-grandchildren, and friends.
Florence passed away peacefully on Tuesday, February 7, 2017, at Harmony River Living Center, at the age of 104 years, 8 months, and 11 days. She lived her entire life in McLeod County.
Blessed be her memory.
Florence is survived by her:
Daughters, Janet Day and her husband, Myron "Mike" of Delano, MN,
                      Kay Bergerson and her husband, Marlin "Bergie" of Forest Lake, MN;
Daughter-In-Law, Bethalee Tucker of Roseau, MN;
Grandchildren, Linda Day, Donavon Day and his wife, Cathy, Kathryn Magnusson and her husband, Richard, Quint Klopfleisch and his wife, Cleo;
Great-Grandchildren, Rachel Day, Zachary Day, Kody Klopfleisch, Frances Klopfleisch, Constance Klopfleisch, Joseph Magnusson, Sasha Magnusson, Andrew Magnusson, and Nicholas Magnusson;
Foster Grandchild, Brian Olson and his wife, Jodi and their Daughter, Rebecca Olson;
Many Nieces, Nephews, Cousins and other relatives and friends.
Florence is preceded in death by her Husbands, Reuben Klopfleisch and Glenn Hovda, Parents, Simon and Louisa Schwarze, Siblings, Josephine Magnuson and her husband, Melvin, Louis Schwarze and his wife, Lena, Oliver Schwarze and his wife, Henrietta, and Son, Glen Klopfleisch.