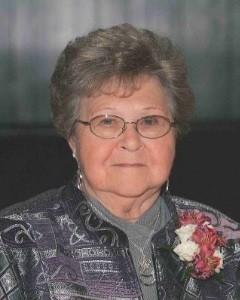 Service Information
Florence Retzlaff, age 87, of Cosmos, passed away Monday, September 11, 2017, at the Meeker Memorial Hospital in Litchfield, Minnesota.
Funeral Service will be held Friday, September 15, 2017, at  11:00 A.M. at Peace Lutheran Church in Cosmos, with interment in the Church Cemetery.
Visitation will be Thursday, September 14, 2017, from 5:00 – 7:00 P.M. at Peace Lutheran Church in Cosmos, and will continue Friday at 10:00 A.M., for one hour prior to the service, all at church.
Visitation/Gathering
Peace Lutheran Church
140 Saturn Street N
Cosmos, MN
Service
Peace Lutheran Church
140 Saturn Street N
Cosmos, MN
Funeral Chapel
Hughes-Hantge Funeral Chapel
311 Main Street S.
Hector, MN 55342
Phone:(320) 848-6297
Cemetery
Peace Lutheran Cemetery (Cosmos)
Meeker County, Cosmos
Cosmos, MN
Obituary
Florence Caroline Retzlaff was born November 1, 1929, at her parents' home in Brookfield Township, Renville County, Minnesota, the daughter of John and Lena (Bahr) Arndt. She was baptized on November 24, 1929 at Trinity Lutheran Church in Brookfield Township, and was confirmed in her faith there on May 23, 1943. Florence grew up in Brookfield Township, and received her education at School District 53 through the eighth grade.
On February 12, 1945, Florence was united in marriage to Ervin Fred Retzlaff at the Brookfield Lutheran Church Parsonage. The couple lived and farmed in the Cosmos and Corvuso area until 1969. Florence enjoyed her life on the farm, working with Ervin and raising their five children. Florence also worked as a cook for Bruce Hoff at the Royal Café, and for Wyman Nystrom at Nystrom's Café. They retired in 1997. Florence and Ervin had shared 54 years of marriage when Ervin passed away on September 14, 1999. Florence continued living in Cosmos until 2013. She lived at Emmaus Place in Litchfield until moving into Meeker Manor.
Florence was a member of Peace Lutheran Church in Cosmos, and was active with the Peace Lutheran Church Women. She enjoyed baking and cooking, and no one ever went away hungry after visiting her. She loved to can, and was especially known for her garlic dill pickles. Florence and Ervin loved to go dancing, fishing, and camping. She enjoyed gardening and playing cards. Florence loved spending time with her family.
On Monday morning, September 11, 2017, Florence passed away at the Meeker Memorial Hospital in Litchfield, having reached the age of 87 years. Blessed be her memory.
Florence is survived by her:
Children:        Larry Retzlaff and his wife Linda of Tracy, MN,
                        Gary Retzlaff and his wife Bev of Clara City, MN,
                        Carol Aalderks and her husband El of Willmar, MN,
                        Jim Retzlaff and his fiance Karae of Sauk Centre, MN,
                        Diane Sladek and her husband Jack of Litchfield, MN;
18 Grandchildren, 43 Great-Grandchildren; 8 Great-Great-Grandchildren;
Brother, Willard "Bob" Arndt and his wife, Delores, of Cosmos;
nieces, nephews, other relatives, and friends.
Florence was preceded in death by her Parents, Husband, Ervin Retzlaff, and by her siblings and their spouses: Alvin (Violet) Arndt, Elmer (Ruth) Arndt, Freida (Lloyd) Hoff, and Delores "Babe" (Roger) Sayles.