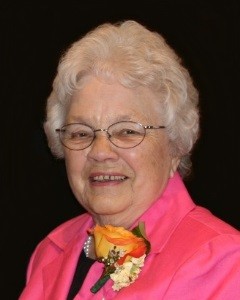 Service Information
Frances Knudsen, age 88, of Hector, passed away Wednesday, April 16, 2014, at the Buffalo Lake Healthcare Center.
Funeral Service will be Tuesday, April 22, 2014, at 11:00 a.m. at First Lutheran Church in Hector.
Interment in the Hector City Cemetery.
Visitation will be Monday from 5:00 – 7:00 P.M. at the Hughes-Hantge Funeral Chapel in Hector, and will continue for one hour prior to the service at the Church on Tuesday .
Memorials preferred to Smile Train.
Visitation/Gathering
Hughes-Hantge Chapel
311 Main Street South
Hector, MN
Website:hughes@hantge.com
Service
First Evangelical Lutheran Church
220 5th Street West
Hector, MN
Funeral Chapel
Hughes-Hantge Funeral Chapel
311 Main Street S.
Hector, MN 55342
Phone:(320) 848-6297
Cemetery
Hector City Cemetery
Renville County, Hector Township, Section 32
Hector, MN
Obituary
Frances Kathleen Knudsen was born on May 16, 1925 to William and Anna Sloter, the youngest of 14 children, in Buffalo Center, Iowa. She was four and her sister Ethel was six when they were taken to the Owatonna Orphanage. They were later chosen for foster care by Fred and Jennie Christiansen of New London. Frances was baptized as an adult.
On June 11, 1944, Frances married Kinsley Knudsen and into the warm and loving Knudsen family. Together they had three children: Randall, Jillaine and Rodney.  Frances and Kinsley lived in Little Rock, Arkansas, while Kinsley was in the service.  They lived in Spicer, Minnesota, until 1958.  A career opportunity brought them to Finley, North Dakota, for four years; they then moved in 1962 to St. James, Minnesota.  In 1968, their family moved to Hector, and became members of First Lutheran Church.  Frances was a faithful member, and showed her love by her contributions of food and serving at funerals.  She also took her turn as Smorgasbord Chair. 
Frances worked at many different jobs: waitress, motel manager, baker, and at the Hector Red Owl. She enjoyed traveling, reading, and having coffee with friends. Frances had a quick wit and loved to make people laugh. Most importantly, Frances was a devoted mother and grandmother. Her family brought her the greatest joy and she was so excited to add each new baby to the family tree.
Early Wednesday morning, April 16, 2014, Frances passed away at the Buffalo Lake Healthcare Center, having reached the age of 88 years, 11 months.  Blessed be her memory.
Frances is survived by her children: Randall and Linda Knudsen of Buffalo Lake,
Jillaine and Mark Schwiderski of Hector, and
Rodney and Sharlene Knudsen of Mora, MN;
her grandchildren and their families:
Jason Sing and Karry Haley and their children Koryssa, Brendan, and Carson,
Justin and Staci Sing and their children Braylon and Tyler,
Brent and Katie Knudsen with their daughter Zoe, and
Amber and Mike Rahn with their daughter Sophia and baby-to-be;
step-grandchildren and their families: Dale Alberts, Dean Alberts, Dan Alberts, Jason Schwiderski, Sarah Jaeger, Jamie Schwiderski, and Ryan Schwiderski;
sisters-in-law Marilyn Knudsen and Ramona Perron.
nieces, nephews, other relatives, and friends.
She was preceded in death by her parents, husband Kinsley, 13 siblings, foster brother Ralph Christiansen, and many Knudsen relatives.