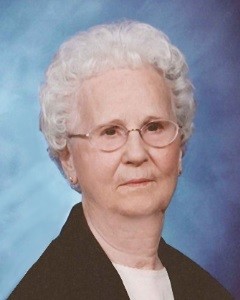 Service Information
Frances Krumrey, age 98, of Buffalo Lake, passed away July 9, 2015, at the Buffalo Lake Healthcare Center.
Funeral Service will be held Tuesday, July 14, 2015, at 11:00 A.M. at the Zion Evangelical Lutheran Church in Buffalo Lake, with interment in the Church Cemetery.
Visitation will be held Tuesday for two hours prior to the service at the Church, beginning at 9:00 A.M.
Visitation/Gathering
Zion Evangelical Lutheran Church
228 5th Street NW
Buffalo Lake, MN
Service
Hughes-Hantge Chapel
311 Main Street South
Hector, MN
Website:hughes@hantge.com
Funeral Chapel
Hughes-Hantge Funeral Chapel
311 Main Street S.
Hector, MN 55342
Phone:(320) 848-6297
Cemetery
Zion Lutheran Cemetery (Buffalo Lake)
Buffalo Lake, MN
Obituary
Frances Minnie Hoecke Krumrey was born to Carl and Dorathea (Menk) Hoecke on August 14, 1916, in Brookfield Township, Renville County, Minnesota.  She was the ninth of eleven children, all of whom preceded her in death.  Frances was baptized September 24, 1916, by Pastor L. Kettner in Brookfield Township.  Her sponsors were Minnie Hoecke Klenzman and Paul Wehking.  She was confirmed by Pastor Wm. F. Tinge on March 29, 1931. 
On April 5, 1940, Frances married Myron August Krumrey at Peace Lutheran Church in Cosmos, Minnesota, with Pastor J. Kaiser officiating.  Witnesses were Vera Hoecke, Arvid Krumrey, Irma Haas, Reuben Hoecke, Enola Petersen, and George Petersen.  In 2005, they celebrated their 65th anniversary.  They were married 67 years at the time of Myron's death in 2007. 
As a child, Frances grew up sharing the chores of a farm family and going to a one-room country school with her siblings.  She loved to read and she loved school so much that she chose to go through 8th grade twice, since high school away from home was not an option.   When she finished school, she went to work for a family near Buffalo Lake.  Her duties were housekeeping and companionship for the lady of the house.  It was at this time that she met and fell in love with her future husband, Myron Krumrey.  They married and started farming north of Buffalo Lake, the farm now occupied and farmed by their grandson, Patrick Krumrey. 
Together they raised four children, Gordon, Janet, Sharon, and Alan.  Frances was a homemaker and helped Myron with the farm chores.  She spent many hours at the bedside of her son, Alan, after his numerous heart surgeries, and at the bedside of her daughter, Sharon, who was struggling with cancer.  She also gave of her time and talents to help with church events.  She taught Sunday School for ten years, and was an excellent role model for her children.  She loved a clean house, her garden, sewing and embroidery work, and making orange rolls every Saturday for Sunday morning breakfast.  Her faith and the love for her family, for whom she prayed daily, were her greatest strengths. 
In December of 2006, Frances and Myron moved to a townhome in Buffalo Lake where she lived until November of 2014, doing light housework and cooking for herself.  After several hospitalizations and moving into assisted living, her health declined and she needed more care in the Buffalo Lake Healthcare Center.  Though she was unable to attend physically, she remained a member of Zion Evangelical Lutheran Church, and stayed connected to the church community through cable TV.  On July 9, 2015, she passed away at the Buffalo Lake Healthcare Center, having reached the age of 98 years.  Blessed be her memory.
Frances is survived by her: Son, Gordon Krumrey and his wife, Maureen, of Glencoe; Daughter, Janet Bryan and her husband, Merle, of Inver Grove Heights; Son-in-law, Robert Koskovich, the late Sharon Krumrey's husband, and his wife Terri, of Atlanta, Georgia; Daughter-in-law Janet Krumrey, the late Alan Krumrey's wife, and her son Paul Tibbits; 8 Grandchildren; 15 Great-grandchildren; Sisters-in-law, Wilna Ahlbrecht and Phyllis Hoecke; other relatives, and friends.
Frances was preceded in death by her parents, Carl and Dorathea Hoecke; Husband, Myron Krumrey; Daughter, Sharon Krumrey Koskovich; Son, Alan Krumrey; Sisters: Marinda Hertig, Ruby, who died in childhood, Cora Braun, Gladys Ulrich, Dorathea Petersen, Enola Petersen, and Vera Wall; Brothers: Carl Hoecke, Ervin Hoecke, and Reuben Hoecke.