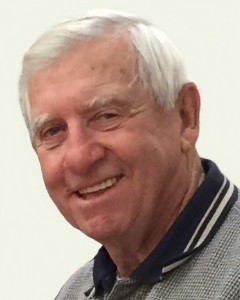 Service Information
Francis Kramer, age 78, of Hector, husband of Barbara, passed away Thursday, April 28, 2016, at the Mayo Clinic Hospital in Rochester. 
Mass of Christian Burial will be held Monday, May 2, 2016, at 10:30 A.M. at St. John's Catholic Church in Hector, with interment in St. John's Catholic Cemetery.
Military Honors will be provided by the Carl O. Potter American Legion Post 135 of Hector.
Visitation will be held Sunday, May 1, 2016, from 4:00 – 7:00 p.m. at the Hughes-Hantge Funeral Chapel in Hector, with Prayer Service at 7:00 p.m. Visitation will continue Monday at St. John's Catholic Church for one hour prior to the service.
Visitation/Gathering
Hughes-Hantge Chapel
311 Main Street South
Hector, MN
Website:hughes@hantge.com
Service
St. John's Catholic Church
301 Cedar Avenue East
Hector, MN
Funeral Chapel
Hughes-Hantge Funeral Chapel
311 Main Street S.
Hector, MN 55342
Phone:(320) 848-6297
Cemetery
St. John's Catholic Cemetery (Hector)
Hector, MN
Obituary
Francis Joseph Kramer was born December 21, 1937 in Bird Island, Minnesota, the son of Frank J. and Lucy (Dummer) Kramer. He was baptized and confirmed at St. Mary's Catholic Church in Bird Island. Francis attended country school in Brookfield Township, and graduated from Hector High School with the Class of 1955.
On September 10, 1960, Francis was united in marriage to Barbara Ann Hable at St. John's Catholic Church in Hector. They made their home in Brookfield Township where they raised their six children. From 1960 to 1964, Francis served in the National Guard Olivia unit.
Francis was a farmer all his life, and continued as the 2nd generation of Kramer farmers. He was a charter member of the Southern Minnesota Beet Sugar Co-op, and served on the Cenex Board of Directors.
Francis loved the farm, and was a hard worker. While working with his family, even while walking beans, he would remind them "We're making memories."  Francis and Barbara enjoyed traveling, and spent winters in Arizona. He enjoyed golfing. Francis had a great sense of humor, and was a Big Kid at heart. He loved to play games with his children and grandchildren, and was a very competitive player. His Sunday mornings were spent attending church, and listening to Sid Hartman while reading the sports page. He enjoyed spending time with his friends, and his greatest joy was spending time with his grandchildren. 
On Thursday, April 28, 2016, Francis passed away at the Mayo Clinic Hospital in Rochester after a short illness, having reached the age of 78 years.  Blessed be his memory.
Francis is survived by his:
Wife, Barbara Kramer of Hector, MN;
Children: Rick Kramer and his wife Cindy of Hector, MN,
     Tracy Struwe and her husband Joey of Estelline, SD,
     Jerry Kramer and his wife Nadine of Fergus Falls, MN,
     Kathy Petracek and her husband Dan of Waseca, MN, and
     Lisa Bonke and her husband Kip of Hudson, WI;
Grandchildren: Tyler Kramer, Luke Kramer, Reed Kramer, Riley Kramer, Alaina Struwe,    
     Brooke Struwe, Derek Kramer, Reece Kramer, McClain Kramer, Emily Petracek,
     Samantha Petracek, Joe Petracek, Michael Petracek, Grace Bonke, Brianna Bonke;  
Great-grandchildren: Thann and Taya Kramer;
Siblings:        Eugene Kramer and his wife Carol of Hector,
                        Helen Carda of Essig,
                        Lucille Ryan of Bird Island,
                        Doug Kramer and his wife Phyllis of Hector,
                        Robert Kramer and his wife Delores of Hutchinson,
                        Mary Ann Goihl and her husband John of Eden Prairie,
                        Marlys Determan and her husband Dave of North Andover, MA,
                        Joann Hutchison and her husband John of Hopkins,       
                        Judy Kelly and her husband Tim of Shakopee,
                        Mike Kramer and his wife Rhonda of Hector,
                        Colleen Johnson and her husband Brett of Hopkins;
Brother-in-law, Steve Hable and his wife Lori of El Cajon, CA;
Many Nieces, Nephews, other relatives, and friends.
Francis was preceded in death by his Parents, Son Danny, Brother-in-law Stan Carda, and
Nephews Justin Kramer and Scott Kramer.