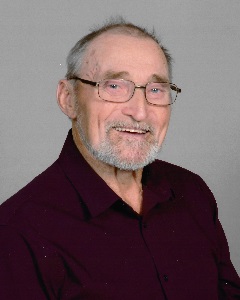 Service Information
Frederick "Fred" Kiecker, age 82, of Fairfax passed away Wednesday, September 6, 2023, at Prairie Senior Cottages in New Ulm, Minnesota.
Funeral Service will be Tuesday, September 12,  2023, 10:00 A.M. at St. John Evangelical Lutheran Church in Fairfax with interment in Emanuel Lutheran Cemetery, Wellington Township, Renville County, Minnesota.
Visitation will be Monday, September 11, 2023, from 5:00 P.M.-7:00 P.M. and will continue one hour prior to the service on Tuesday, ALL at the church.
Visitation/Gathering
St. John Evangelical Lutheran Church
107 Lincoln Avenue
Fairfax, MN
Service
St. John Evangelical Lutheran Church
107 Lincoln Avenue
Fairfax, MN
Funeral Chapel
Hauser-Hantge Funeral Chapel
601 South Park Street
Fairfax, MN 55332
Phone:(507) 426-7274
Cemetery
Emanuel Lutheran Cemetery (Wellington Twp)
68364 C.R. 27, Fairfax, MN 55332
Fairfax, MN
Obituary
Frederick "Fred" John Kiecker was born on July 24, 1941, in New Ulm, Minnesota. He was the son of Cornelius and Myrtle (Ruschmeyer) Kiecker. Fred was baptized and confirmed at Emanuel Lutheran Church. He received his education at Emanuel Lutheran School in Wellington Township, rural Fairfax and worked on the family farm until he started trucking, eventually starting Kiecker Trucking in Fairfax, Minnesota, until he retired.
On September 3, 1960, Fred was united in marriage to Sharon Berens at Emanuel Lutheran Church in Wellington Township. After their marriage, the couple spent a few years living on Fred's family farm, then moved to Springfield, Minnesota, for 11 years and eventually moved back to Fairfax, where they spent the rest of their time together building their business, raising their family, and celebrating 51 years of marriage.
Fred was a devoted Christian and member of St. John Evangelical Lutheran Church. He was an avid toy tractor collector and spent his free time keeping up with his farm. Fred loved catching up with his buddies at morning coffee and enjoyed supper out with friends. He loved spending time with his kids and grandkids and enjoyed feeding and watching the birds. He also appreciated taking car rides along the river bottom looking for wildlife and enjoying the scenery.
Fred moved to Country View Estates in early 2022, a special thanks to the staff who helped with his transition and provided Fred with care and compassion. Fred was kind-hearted to all who knew him. His family would like to thank those who offered support, kindness, and love during his life, especially during the last couple of years.
Fred passed away peacefully with his daughter, Dawn at his side on September 6, 2023, at Prairie Senior Cottages in New Ulm at the age of 82 years. Blessed be his memory.
Fred is survived by his:
Children,          Kevin Kiecker and his wife, Laurel of Brooklyn Park, MN,
                        Dallas Kiecker and his wife, JoDee of Burnsville, MN,
                        Sue Miehlisch and her husband, Jork of Lanesboro, MN, and    
                        Dawn Waters and her husband, Mike of Wagner, SD;
Grandchildren, Kara (John) Edelman, Derek (Brianna) Kiecker, Taylor (Sam Bokku) Severn, Alex Severn; Jeremey (Kami) Kiecker, Kody Kiecker, Wyatt Miehlisch, Colby Miehlisch, Ryan Waters, and Grace Waters;
Great grandchildren, Madison Edelman, Kye and Ellie Kiecker, Halle Bokku, Asher and Owen Kiecker;
Sister, Carol (Robert) Rieke of Bemidji, MN;
Sister-in-law, Kathy (Gary) Orth of Alpena, SD;
Brother-in-law, Ronald (Carole) Berens of Plankington, SD;
Numerous nieces, nephews, cousins and his friend, Darlene Dover.
Fred was preceded in death by his Wife, Sharon "Sam" Kiecker; Parents, Cornelius and Myrtle Kiecker; Son in infancy, Frederick John Kiecker, Jr.; Sister, Janet Nuessmeier; Brother, Roger Kiecker; Brothers-in-law, Ricky Berens and Eldon Nuessmeier; and many cousins and good friends.