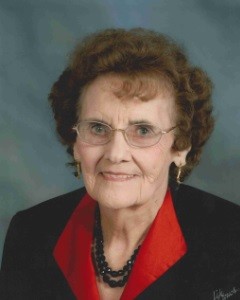 Service Information
Frieda Louise Marie Spiering, age 100, of Brownton, passed away Friday, April 15th, 2016, at Harmony River Living Center in Hutchinson.  
Funeral Service will be held Tuesday, April 19, 2016, at 2:00 P.M. at Immanuel Lutheran Church in Brownton.  
Interment will be held in the Church Cemetery.  
Visitation will be held Tuesday, April 19, 2016, for two hours prior to the service at the Church, beginning at 12:00 noon.
Visitation/Gathering
Immanuel Lutheran Church
700 Division Street
Brownton, MN
Service
Immanuel Lutheran Church
700 Division Street
Brownton, MN
Funeral Chapel
Dobratz-Hantge Funeral Chapel
899 Highway 15 South
Hutchinson, MN 55350
Phone:(320) 587-2128
Cemetery
Immanuel Lutheran Cemetery (Brownton)
5th St.
Brownton, MN
Obituary
Frieda Louise Marie Frauendienst was born January 23, 1916, at the family home in New Auburn Township to William and Minnie (Proehl) Frauendienst.  She was baptized at the family home February 6, 1916, by Rev. George Diemer. She was confirmed on March 24, 1929, at Immanuel Lutheran Church in New Auburn by Rev. Hans Werner. She was a member of Immanuel Lutheran in New Auburn until her marriage in August, 1943. 
Frieda attended Metcalf School District 35 in New Auburn, Sibley County, and graduated from the 8th grade. She was always very proud to have been the Champion oral speller of the 8th grade in Sibley County in 1931. She also attended two years of parochial school at Immanuel in New Auburn before her confirmation in 1929. 
Frieda grew up on the family farm with seven siblings. She was very active in helping with the day-to-day chores and helping her siblings when she was needed. 
On August 29, 1943, Frieda was united in marriage to Lloyd Spiering in a double wedding ceremony with Lloyd's sister, Myrna, and her husband, Gerhard Podratz, of Gaylord. The wedding ceremony was performed by Rev. Gerhard Schmidt at Immanuel Lutheran Church of Brownton, McLeod County. 
Frieda and Lloyd were blessed with two children, Sherwyn and Rhonda. They farmed the family farm until retirement in 1979. The farm was a century farm in Penn Township, McLeod County. Her husband Lloyd passed away September 10, 1992. Frieda and Lloyd shared 49 years of marriage together. Frieda continued to live on the farm until September, 2012, when she entered assisted living in Shade Tree Retirement Home in Brownton. In February, 2015, she became a resident of Harmony River in Hutchinson. 
Frieda enjoyed the country life. She was very happy to earn her driver's license privilege at the age of 75 years. In her younger years, she raised a lot of poultry and had a large garden. She was an excellent baker and made the best apple pies, always having one ready for family and friends that would stop by to visit. She was also the family barber and hairdresser, giving many haircuts and perms. She was a very caring and loving grandmother to her three grandchildren, babysitting and doing whatever she could for them. She also spent a lot of time helping her mother and sister when they needed extra help due to aging. She greatly treasured any time spent with her family. She was a wonderful mother, and especially enjoyed her 14 great-grandchildren. 
Frieda's other interests were reading, photo scrapbooks, family history and genealogy, Minnesota history, going to church, and playing hymns on her electric organ. 
On Friday, April 15, 2016, Frieda passed away at Harmony River Living Center in Hutchinson, having reached the age of 100 years.  Blessed be her memory. 
Frieda is survived by her:
Son, Sherwyn Spiering and his wife, JoAnn, of Hutchinson; 
Daughter, Rhonda Lindeman and her husband, Lonnie, of Brownton; 
Grandchildren: Heather (Lindeman) Bislew and her husband Johnathan of Mankato, Nathan Lindeman and his wife Emily of Sioux Falls, SD, Adam Lindeman and his wife Angie of Glencoe; 
Great-grandchildren: Evangeline, Isabel, Faith, Isaiah, Phinehas, Esther, and Shekinah Bislew, and Gabriel, Brianna, Alex, Eric, Sawyer, Maguire, and Dylan Ann Lindeman; 
Sister-in-law, Marian Frauendienst of Glencoe; 
and by many nieces, nephews, other relatives, and friends. 
Frieda was preceded in death by her Parents, William and Minnie Frauendienst; Husband, Lloyd; Sisters and Brothers-in-law: Esther and Albert Grack, Vera and Fred Grack, Martha and Harold Klitzke; Brothers and Sisters-in-law: Walter and Joyce Frauendienst, Clarence and Alma Frauendienst; Brother, Virgil Frauendienst; Sister, Lorraine Frauendienst; Sister-in-law and Brother-in-law, Gerhard and Myrna Podratz.