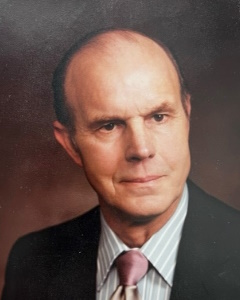 Service Information
Gail E. Grove, age 94, of Shakopee, Minnesota, formerly of Hutchinson, Minnesota, passed away on Friday, March 10, 2023, at St. Francis Hospital in Shakopee.
Memorial Service will be held at a later date.
Funeral Chapel
Dobratz-Hantge Funeral Chapel
899 Highway 15 South
Hutchinson, MN 55350
Phone:(320) 587-2128
Obituary
Gail Edward Grove, 94 long time Hutchinson resident passed away at St Francis Hospital in Shakopee, MN.
Gail the youngest of 13 children was born in Plover, Iowa to James & Grace (Calhoon) Grove. Gail met the love of his life Carol Nelson while serving in the US Air Force during the Korean War. Gail and Carol were united in marriage on October 16, 1955 at the Vineyard Methodist Church in Hutchinson. Celebrating 64 years of marriage they were blessed with three children Lisa, Mitchell and Kyle. Gail and Carol farmed in Iowa until 1960 when they moved back to Hutchinson and Gail began working at 3M that year as mechanic working his way up to a tool and dye maker. Longing for his days of farming Gail and Carol purchased a farm east of Hutchinson in 1966 and he farmed part time while working at 3M. Gail retired from 3M in 1989 after 29 years.
Gail was a talented carpenter and woodworker creating beautiful segmented exotic turned wood bowls for his friends and family. Gail and Carol enjoyed retirement having many wonderful adventures traveling to several countries in Europe, Asia, Australia, New Zealand and The Caribbean Islands. They spent many winters as "snowbirds" at their home in Mesa Arizona where he was the woodworking master teaching others the craft.
Gail is survived by daughter Lisa (Rip) of Medina, WA, son Mitch Grove (Lisa) Of Shakopee, MN and son Kyle (Sherry) Grove of Apple Valley, MN. 6 Grandchildren Steele (Florentina) Johnson, Jackie (Malana) Johnson, Quincy (Nick) Galanos, Kevin Grove, (fiancé Marina Suarez), Collin (Hailey) Grove, Keenan Grove (fiancé Zoe Walsh), and Taylor Grove. One Great-Grand daughter Isla Johnson with another on the way.
Brother-in-Law Duane Buske as well as many nieces and nephews.
Gail was proceeded in death by his loving wife Carol, his parents James and Grace Grove, Grand-daughter Star Johnson, Grandson Cutter Johnson, Sister-in-Law Rylda (Nelson) Buske, Mother and Father-in-Law Emma and Clarence Nelson.