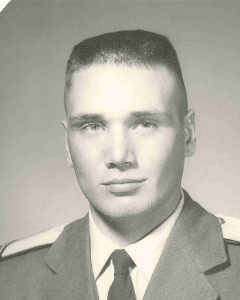 Service Information
Gary Torbert, age 78, of Hector, passed away Wednesday, November 25, 2015, at the Red Rock Assisted Living in Woodbury.
Memorial Service will be Saturday, December 5, 2015, at 11:00 A.M. at the United Methodist Church in Hector.
Gathering of Family and Friends will be held Saturday for one hour prior to the service, from 10:00 – 11:00 A.M., at the United Methodist Church in Hector.
Interment will be held in the Vikor Lutheran Church Cemetery in Dovre Township, rural Willmar.
Military Honors will be provided by the Carl O. Potter American Legion Post 135 of Hector.
Service
United Methodist Church
300 2nd Street West
Hector, MN
Funeral Chapel
Hughes-Hantge Funeral Chapel
311 Main Street S.
Hector, MN 55342
Phone:(320) 848-6297
Obituary
     Gary Lamont Torbert was born May 8, 1937 in St. Andrew's Hospital in Minneapolis, Minnesota, the son of Bernard L. and Grace (Johnson) Torbert. He was baptized and confirmed at the age of 15 in 1952 at the Hector United Methodist Church. During Gary's high school years in Hector, he was a member of the 212 All Conference football team in 1954.  He graduated as Valedictorian with the Class of 1955 from the Hector High School, and continued his education at the University of Minnesota.
     In 1955 and 1956, Gary served in the Minnesota Air National Guard.  On July 9, 1956, Gary entered the United States Air Force, and served as an Air Force cadet at the U. S. Air Force Academy in Colorado.  He received his Honorable Discharge from active duty on August 26, 1958, and continued serving in the U. S. Air Force Reserves until February 27, 1963. Gary returned to the U of M and earned his Bachelor of Science Degree in Ag Economics in 1965.
     On December 30, 1960, Gary was united in marriage to Nona Annette Olson at the Eagle Lake Lutheran Church north of Willmar. They lived in Hector, St. Paul, and Glencoe, Minnesota, Dover, Delaware, and Salisbury, Maryland before returning to Hector to farm the Torbert family farm. Their marriage was blessed with three children, Neal, Douglas, and Kimberly. Gary's life work was farming, and he also worked as a field supervisor for Green Giant. He served as the Clerk for Hector Township for many years.
     Airplanes and flying were a large part of Gary's life. He received his pilot's license while in High School, and he loved to fly. He enjoyed going to the Fly-In Breakfast at the Hector Airport each year.
     Gary was a member of the Hector United Methodist Church. He enjoyed music and reading. He also enjoyed being with people, and three times a day he could be found at Pete's Grill and the Library in Hector.
     Nona passed away on March 4, 2015, and a few months later with his health declining, Gary became a resident of the Woodbury Health Care Center in Woodbury to be closer to his doctors and his son and family.  Recently he moved to the Red Rock Senior Assisted Living in Woodbury, and entered the care of HealthEast Hospice. He passed away there on Wednesday morning, November 25, 2015, at the age of 78 years. Blessed be his memory.
     Gary is survived by his: Children: Neal Torbert of Fargo, North Dakota, Douglas Torbert and his wife Tammy of Woodbury, Minnesota, and Kimberly Torbert of Bonita Springs, Florida; Grandchildren: Adam Torbert, Natalie Torbert, Catherine Torbert, McKenzie Torbert, and Jack Torbert; Brothers: Eugene Torbert and his wife Bobbi of Pfafftown, North Carolina, and Morris Torbert and his wife Sharon of Hawaii; Brother-in-law, Charles Olson of Willmar; Other relatives, and friends.
     Gary was preceded in death by his Parents, Sister-in-law Beatrice Olson, and Brother Arden Torbert.