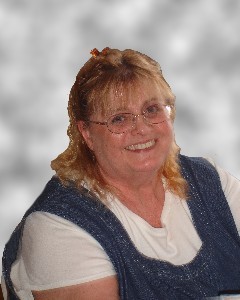 Service Information
Gennis "Genny" Stresemann age 67, of Winthrop, passed away Sunday, December 13th, 2015, at the Good Samaritan Society in Winthrop.
Funeral Service will be Saturday, December 19th, 11:00 A.M. at Zion Evangelical Lutheran Church in Winthrop with interment in The Winthrop Cemetery.
Visitation will be Friday, December 18th, from 4:00 P.M.-8:00 P.M. at Zion Evangelical Lutheran Church in Winthrop. Visitation will continue one hour prior to the service at the church on Saturday.
Visitation/Gathering
Zion Evangelical Lutheran Church
608 Highland Drive W
Winthrop, MN
Service
Zion Evangelical Lutheran Church
608 Highland Drive W
Winthrop, MN
Funeral Chapel
Dalin-Hantge Funeral Chapel
209 West Second Street
Winthrop, MN 55396
Phone:(507) 647-5326
Cemetery
The Winthrop Cemetery
Winthrop, Sibley County
Winthrop, MN
Obituary
Gennis Elaine Stresemann was born to Walter and Myrtle (Peterson) Schulte on November 19, 1948, in rural Gaylord, Minnesota. Genny was baptized on January 2, 1949, at Immanuel Lutheran Church in Gaylord, Minnesota, and confirmed in the spring of 1962 at Norseland Lutheran Church in rural St. Peter, Minnesota, by Pastor Joseph N. Peterson. She was a 1966 graduate of Gaylord High School. While in high school, she worked in the offices of Fingerhut in Gaylord. Following high school, Genny was a graduate with honors from Weaver Airline School in Kansas City, Missouri, and, in 1967, worked for American Airlines in Chicago, Illinois.
Genny was united in marriage to Gary Stresemann on November 4, 1967, at Norseland Lutheran Church by Pastor Joseph N. Peterson. Gary and Genny shared 44 wonderful years of marriage until Gary's death in December of 2011.  To this union a son, Lonnie, and two daughters, Jessica and Sarah, were born. Gary and Genny farmed together, milking dairy cattle in their early years and raising sheep, geese, ducks, chickens, beef cattle, llamas, and a few farm cats. They gardened together raising vegetables and a colorful array of flowers that adorned their deck. When they stopped milking, Genny candled eggs at Crystal Foods in Gaylord.  In 1991, she began working for American Family Insurance as a receptionist and then as a licensed agent. She retired in 2011 when Gary passed.  In her retirement, she loved being on the farm with her "puppies," Uma and Patches, two rambunctious border collies. They greeted her each morning at the screen door with their excited dance and wagging tails, waiting for the treats that would be lavished on them.
Genny was a member of Zion Evangelical Lutheran Church in Winthrop. She was a secretary with the local Aid Association for Lutherans branch, a church greeter, Sunday school and vacation bible school teacher. She loved attending school events throughout her children's school years. She assisted with the GFW Knowledge Bowl and was a mainstay in the bleachers of sporting events to support her children. 
Genny treasured her friends. She and Gary enjoyed close friendships with their card club group, spending many evenings talking and playing cards. With friends, they loved to go to country western concerts. Genny's favorite was Garth Brooks. They also traveled with their friends and family, going to Las Vegas several times. Many Saturday mornings were spent at a local restaurant catching up with "the girls," friends from her days at Crystal Foods. She loved to send cards to friends and family, having a ready supply for any occasion, and was overjoyed when others would send her a note or card.
Family was so important to Genny. She loved to host gatherings, especially the annual summer birthday party for her seven grandsons. She treated them to a themed party – pirate hats and eye patches one year to tropical leis and grass hula skirts the next. Of course, a piñata was filled with treats for her blindfolded grandsons to release with wild swings of a bat. She delighted in spoiling them with homemade chocolate chip cookies and holiday packages, hand delivered or arriving by priority mail. She was a prolific letter writer, keeping her grandsons up to date on Grandpa's latest adventures or her puppies' latest scolding. She was never happier than when her home was overflowing with the happy noises of her family.
Genny passed away at the Good Samaritan Society of Winthrop at the age of 67. Genny will be forever loved and missed.  Blessed be her memory.
Genny is survived by her son, Lonnie Stresemann, his wife, Jay, and grandsons, Alex and Nolan of St. James, MN; daughter, Jessica Bell, her husband, Ellis, and grandsons, Sam and Isaac, of San Diego, CA; daughter, Sarah Koskela, her husband, Daniel, and grandsons, Dustin, Adam and Thomas, of Winthrop, MN; Sisters, Joyce (Bud) Schubert; Sandy (Bob) Latzke; RoxAnne (Tom) Bergs;  Brothers, Milton; Bill (Cheryl); Barney; Sisters-in-law, Sandy Schulte and Barbara Schulte; Sisters-in-law and brothers-in-law, Carol Monson, Vanna and Gary Schwecke; Lee Ann and Kevin Christopherson; Many other relatives, friends, and neighbors.
She was preceded in death by her husband, Gary; father and mother, Walter and Myrtle Schulte; sisters, Lavonne (Harold) Lipke; Gloria (Richard) Kahlow; brothers, Don Schulte and Dennis Schulte; mother-and father-in-law, Albert and Ruth Stresemann; brothers-in-law, Dale Monson, Richard Kahlow, Harold Lipke; many other loved ones and friends.