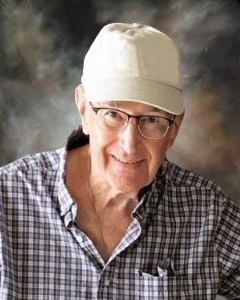 Service Information
George "Gene" E. Stone, age 80, husband of Sharon, of Hutchinson, Minnesota, passed away on Saturday, June 3, 2023, at The Gardens of Winsted in Winsted, Minnesota.
Mass of Christian Burial will be held on Thursday, June 8, 2023, at 11:00 A.M. at St. Anastasia Catholic Church in Hutchinson, with interment at a later date in Fort Snelling National Cemetery in Minneapolis, Minnesota.
Visitation will be held on Wednesday, June 7, 2023, from 4:00 to 7:00 P.M. at Dobratz-Hantge Funeral Chapel in Hutchinson, with a Rosary at 4:00 P.M. and Prayer Service at 6:30 P.M. Visitation will continue one hour prior to the service at the church.
Military Honors by Hutchinson Memorial Rifle Squad.
Visitation/Gathering
Dobratz-Hantge Chapel
899 Highway 15 South
Hutchinson, MN
Website:hantge.com
Service
St. Anastasia Catholic Church
460 Lake Street South
Hutchinson, MN
Funeral Chapel
Dobratz-Hantge Funeral Chapel
899 Highway 15 South
Hutchinson, MN 55350
Phone:(320) 587-2128
Cemetery
Fort Snelling National Cemetery
7601 34th Avenue S
Minneapolis, MN
Obituary
George "Gene" Eugene Stone was born on June 27, 1942, in St. Paul, Minnesota. He was the son of George and Mary (Lemar) Stone. Gene attended Cathedral School in St. Paul until moving to Blaine, Minnesota, where he finished middle school and high school in Anoka, Minnesota. Many of his favorite times as a youth were spent on the family farms in South Dakota.
One of Gene's proudest accomplishments was serving in the United States Navy. He spent two years on active duty serving on the catapult crew of the U.S.S. Independence and then two years in the Reserves.
Gene met the love of his life, Sharon Ann Bassett, in 1958, at the Sit 'N' Sip Drive Inn, that her aunt and uncle owned, and she worked as a car hop. Gene returned frequently for his favorites, hamburgers and malts, and eventually taking Sharon on their first date to church. They were united in marriage on January 20, 1962, at All Saints Catholic Church in Minneapolis, Minnesota. This marriage was blessed with three children, David, Shawn, and Dawn. They shared 61 years of marriage. The Stone's house was the place to be. Gene was always silly and welcoming to the neighborhood kids. He would set up obstacle courses, pass out popsicles, and always quick to start a game of badminton or croquet.
Gene held several jobs over the years, including welder, truck driver, and security guard. He enjoyed building model airplanes, fishing, and jigsaw puzzles.
Throughout Gene's life, he had a strong faith in the Catholic Church and the promise of eternal life with God. He was a member of St. Anastasia Catholic Church. Gene was a Fourth Degree of the Knights of Columbus.
Gene leaves us with fond memories of silliness, love, and never acting your age.
Gene passed away on Saturday, June 3, 2023, at The Gardens at Winsted in Winsted, Minnesota, at the age of 80 years.
Blessed be his memory.
Gene is survived by his:
Wife, Sharon Stone;
Son, Shawn Stone and his wife, Brenda;
Daughter, Dawn Zelm and her husband, Jeff;
Grandchildren, Kristina Knutson and her husband, Jordan, Sabrina Zalusky and her husband, Nick, Samantha Winget, Mathew Stone, Amanda Winget and her partner, Dan, Nick Letourneau, Jessica Brewer and her husband, Brian;
Great-grandchildren, Kendra, Aiden, Owen, Lauren, McKenzie, Madison, Mason, Logan;
Many other loved ones and friends.
Gene is preceded in death by his Parents, George and Mary Stone; Son, David Stone; Brother, Robert Rahey.