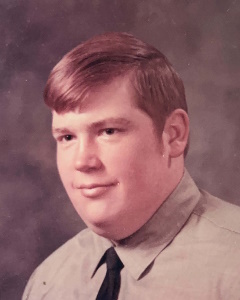 Service Information
Gerald "Jerry" Cummins, age 71, of Hutchinson, Minnesota, passed away on Sunday, July 9, 2023, at Park Nicollet Methodist Hospital in St. Louis Park, Minnesota.
Graveside Service will be held on Friday, July 14, 2023, at 11:00 A.M. at St. Anastasia Catholic Cemetery in Hutchinson.
Funeral Chapel
Dobratz-Hantge Funeral Chapel
899 Highway 15 South
Hutchinson, MN 55350
Phone:(320) 587-2128
Cemetery
St. Anastasia Catholic Cemetery (Hutchinson)
Hwy 15 N.
Hutchinson, MN
Obituary
Gerald "Jerry" Lawrence Cummins was born on December 3, 1951, in Sonoma, California. He was the son of Lawrence and Marguerite (Zobava) Cummins. Jerry was baptized as an infant and later confirmed in the Catholic faith as a youth. He received his education in Hutchinson, Minnesota, and was a graduate of the Hutchinson High School Class of 1969.
On July 2, 1977, Jerry was united in marriage to Suzanne "Suzy" Copa. Jerry and Suzy made their home in Hutchinson, where their marriage was blessed with five children: Jessica, Johanna, Mary, Esther, and Samuel. They shared 36 years of marriage until Suzy passed away on May 30, 2013.
Jerry was employed as a chef with the Hilton Hotel in Minneapolis, Minnesota for 20 years until he retired in 2020. Jerry was a member of the Knights of Columbus Councils 3819 and 4797, as well as the Boy Scouts of America.
Jerry enjoyed creative cooking, going to concerts, and spending time with his beloved dog, Kouba. He was passionate about the outdoors, caring for his plants, and giving back to the community. Jerry especially enjoyed spending time with his family and friends, camping, going for walks with his dog, and hiking with his kids.
Jerry passed away on Sunday, July 9, 2023, at Park Nicollet Methodist Hospital in St. Louis Park, Minnesota, at the age of 71 years.
"There are no happy endings. / Endings are the hardest part, / So just give me a happy middle / And a very happy start." - Shel Silverstein
Jerry is survived by his:
Children, Johanna Cummins of Superior, WI,
Mary Cummins of Crystal, MN,
Esther Cummins of St. Cloud, MN,
Samuel Cummins of Fort Worth, TX;
Grandson, Henry Moy;
Many other relatives and friends.
Jerry is preceded in death by his parents, Lawrence and Marguerite Cummins; brother, David Cummins; wife, Suzanne Cummins; and daughter, Jessica Cummins.