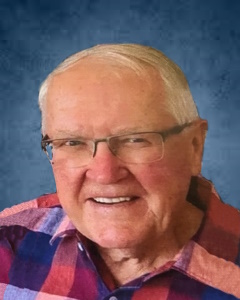 Service Information
Gerald "Jerry" Johnson, age 84, formerly of Hector, Minnesota, passed away on February 24, 2023, in Edina, Minnesota.
Graveside Service will be held Sunday, August 6, 2023, at 2:00 P.M., at Hector City Cemetery in Hector, Minnesota.
Reception to follow at the Hector Event Center in Hector.
Funeral Chapel
Hughes-Hantge Funeral Chapel
311 Main Street S.
Hector, MN 55342
Phone:(320) 848-6297
Cemetery
Hector City Cemetery
Renville County, Hector Township, Section 32
Hector, MN
Obituary
February 24, 2023, Gerald "Jerry" Johnson completed his life journey at his home in Edina, Minnesota at the age of 84 years old. After graduating from Hector High School, Jerry attended and graduated from Augsburg College in Minneapolis, Minnesota. August 20, 1960, he was married to Marciell Janke at St. Paul Lutheran Church in Hector, Minnesota.
Opportunity to travel aboard was presented by joining the Peace Corps and living in Peru, South America for 2 years. Returning to Minneapolis he worked for the J.C. Penney Company, which relocated him and his family to several states including many years in Webster City, Iowa. Thereafter, he worked in downtown Minneapolis with the Dayton - Hudson Company and retired in 2004.
Retirement life was spent full speed ahead traveling cross country and visiting family and friends. He was known for planning the next adventure or family outing. As he said, "Go out and enjoy life." Along with giving back to the community as a longtime member of the International Lions Club.
Gerald is survived by his wife Marciell Johnson of 62 years. Daughters Michelle Smith and Jacey Jahn. Grandchildren Mackenzie (Matt) Wilkins, Audra Jahn, and Madison (Kyle) Reber. Great Grandchildren Jett and Kollins Reber. Along with Brother Jay (Lolly) Johnson and many loving nieces, nephews, and cousins.