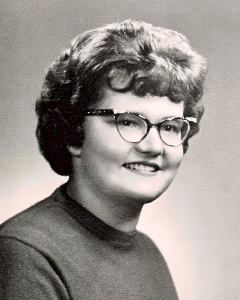 Service Information
Geraldine C. Kyte, age 78, of Glencoe, Minnesota, passed away on Sunday, June 25, 2023, at Mercy Hospital-Unity Campus in Fridley, Minnesota.
A Celebration of Life will be held Friday, July 28, 2023, from 2:00-7:00 P.M. at the Savage McColl Pond – Environmental Learning Center in Savage, Minnesota.
Interment will be held on Saturday, July 29, 2023, at 2:00 P.M. at Oakwood Cemetery in Libson, North Dakota.
Service
Savage McColl Pond - Environmental Learning Center
1377 Dakota Ave.
Savage, MN
Funeral Chapel
Dobratz-Hantge Funeral Chapel
899 Highway 15 South
Hutchinson, MN 55350
Phone:(320) 587-2128
Cemetery
Oakwood Cemetery
6595 Highway 32
Libson, ND
Obituary
Geraldine "Gerri" C. Kyte, age 78, of Glencoe, Minnesota, passed away on Sunday, June 25, 2023, at Mercy Hospital-Unity Campus in Fridley, Minnesota. Gerri was surrounded by many loving family and friends comforting her when she passed peacefully on Sunday afternoon.
Gerri was born at the Tangen Nursing Home in Lisbon, North Dakota on July 29, 1944, to Louis and Florence (Durler) Kyte of Milnor, North Dakota. She grew up on a farm near Milnor with her parents and three siblings: Louise (always referred to as "the oldest"), her only brother, Louie (known as "Bubba") and Nellie (always called "Baby Sister"). Gerri was the "mother hen" of the group. She loved to help mom with the chores and was especially happy to feed the bottle lambs which were always claimed as pets and each one given a name by the Kyte kids.
Gerri and her siblings were fortunate to attend grade school at Aliceton Consolidated which was four miles from their farm. Oh, what fun they had! Besides the learning, Mr. Cresap (a favorite teacher) taught them to play softball and another teacher, Mrs. Myre, taught them how to square dance and do the two-step. There were fond memories of the fabulous Christmas program presented each year when the teachers squished all the desks next to each other in order to make room for the stage which was erected in the grades 5-8 classroom. It was a time of joyous celebration which briefly took the focus away from their studies as they rehearsed the Christmas program. After elementary school at Aliceton, Gerri went on to Lisbon High School where she was a proud graduate of the Class of '62.
Gerri and her brother and sisters lost their parents when they were still minor children. It was a very difficult time for them. Every year of her adult life, Gerri faithfully made the trip to Oakwood Cemetery in Lisbon to put flowers on their gravesite on Memorial Day. Sadly, even though she bought the flowers for this year, she was in the hospital and unable to make the trip to Lisbon.
She loved going to both the Scott County Fair in Jordan and the Minnesota State Fair with an entourage of family and friends. She especially looked forward to her birthday and attending the Scott County Fair, the highlight of which was seeing her name on her grandson's demo car, wishing her a Happy Birthday.
She was well known for her cooking, baking and canning skills. Gerri took great pride in making the "best potato salad ever" and never revealed the exact recipe. No matter what her physical limitations might be at the time, she would insist on bringing a dish (or two or three) to family gatherings. She was an amazing knitter and also enjoyed sewing and other needle crafts. Over the course of many years, she made countless numbers of knitted throws as keepsake gifts for family members and baby blankets for her grandchildren and great grandchildren.
Gerri was employed at Rosemount, Inc. and the Shakopee American Legion Club for many years. When she retired she enjoyed spending time with her family, friends, and her cats, Smokey and Pepper (aka Babies).
Gerri is survived by her Daughters, Karla Kyte of Jordan, MN and Kim Kyte of Glencoe, MN; Grandchildren, Tyler, Stephanie, Emma, Hannah, Marshall, Maddy, Ashly and Austin; Great grandchildren, Taylor, Aiden, Ethan, Cameron, Cora, Avery, Eleanor, Lillian, Addison, Harrison and McCoy; Sisters, Louise Palmer and Nellie Kaley. She was preceded in death by her Parents, Louis and Florence Kyte and her Brother, Louie Kyte.