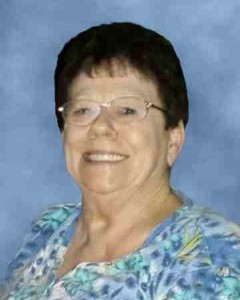 Service Information
Geraldine "Geri" Barrick, age 77, (wife of Chuck Barrick) of Hutchinson, passed away on Saturday, March 5, 2016, at the Augustana Dassel Lakeside Community Home.
A Private Family Memorial Service will be held this week.
Obituary
Geraldine "Geri" Marie Barrick was born on January 16, 1939, in Grand Rapids, Minnesota. She was the daughter of Beanie and Jessica (Olsen) Hane. Geri was baptized as an infant, and was later confirmed in her faith as a youth. She received her education in Hibbing, Minnesota, and was a graduate of the Hibbing High School.
On March 17, 1974, Geri was united in marriage to Charles "Chuck" Barrick, in Keewatin, Minnesota. This marriage was blessed with four children, Lori, Randy, Leann and Ryan. Geri and Chuck resided in Hutchinson, Minnesota, and spent their winter months in McAllen, Texas. They shared 42 years of marriage.
Geri was a Chef, owner and operated of the Chuckwagon in Hutchinson and Cleveland, Minnesota. She also was the Food Service Manager at the Mermaid Restaurant in New Brighton, Minnesota. Geri also worked in Hutchinson and loved her customers. She retired in 2000.
Geri had a passion for cooking and going to casinos, where she enjoyed playing the slot machines. She also enjoyed getting her nails and hair done every week. Geri especially cherished spending time with her family, grandchildren, great grandchildren and friends. She had a special place in her heart for her beloved dog Katie.
When Geri needed assistance with her daily care, she became a resident of the Augustana Dassel Lakeside Community Home in Dassel, Minnesota, on November 30, 2015. She passed away there on Saturday, March 5, 2016, at the age of 77 years.
Blessed be her memory.
Geri is survived by her:
Husband, Chuck Barrick of Hutchinson, MN;
Children, Lori Kelley of Brooklyn Park, MN,
Randy Kangas of Hutchinson, MN,
Leann Barrick and her husband, Martin Smith of Brooklyn Park, MN,
Ryan Barrick of Hutchinson, MN;
8 Grandchildren;
14 Great Grandchildren;
Brothers, James Greski of Hibbing, MN,
Larry Greski and his wife, Mary Anne of Hibbing, MN;
Sister, Barbara Bonelli of Hibbing, MN;
Many Nieces, Nephews, other relatives and friends.
Geri is preceded in death by her Parents, Beanie and Jessica Hane; Stepfather, Lawrence Greski; Granddaughter, July Barrick; Brother, George Greski in infancy.