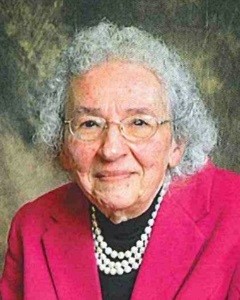 Service Information
Geraldine Swanson, age 84, of Hector, passed away Monday, December 14, 2015, at her home.
Funeral Service will be held Monday, December 21, 2015, at 11:00 A.M. at the Palmyra Covenant Church in Palmyra Township, rural Hector.
Interment will be held in the church cemetery.
Visitation will be held on Sunday from 5:00 – 8:00 P.M. at the Hughes-Hantge Funeral Chapel in Hector, and will continue for one hour prior to the service at the Church on Monday.
Visitation/Gathering
Hughes-Hantge Chapel
311 Main Street South
Hector, MN
Website:hughes@hantge.com
Service
Palmyra Covenant Church
44031 County Rd 4
Hector, MN
Funeral Chapel
Hughes-Hantge Funeral Chapel
311 Main Street S.
Hector, MN 55342
Phone:(320) 848-6297
Cemetery
Palmyra Covenant Cemetery, Palmyra Township
44031 County Road 4
Hector, MN
Obituary
Geraldine Rose Swanson was born February 3, 1931, in Harvey, North Dakota, the daughter of Olen and Lillian (Pfettscher) Geselle. She grew up and received her education in several places, including Danube, Minnesota. Geraldine graduated from the Olivia High School, and continued her education at Mankato State College. She transferred to North Central Bible Institute in Minneapolis, studying elementary education.
 On February 19, 1965, Geraldine was united in marriage to Arnold Swanson in Olivia. They made their home in Palmyra Township, rural Hector, where they farmed. Geraldine enjoyed her role as homemaker and mother to their four sons, James, Jerald, John, and Jason. Geraldine and Arnold had shared 28 years of marriage when Arnold passed away on May 16, 1993.
Geraldine's faith was paramount in her life. She was baptized and confirmed into her faith as an adult.  Geraldine was a Sunday School Superintendent and taught Sunday School for many years.  She was a member of the Palmyra Covenant Church and active with the Palmyra Covenant Women. She was also involved in the Christian Woman's Group, and the Gideon Auxiliary. Her faith, family, and the Church were her focus in life, through which she received joy and fulfillment.
On Monday afternoon, December 14, 2015, Geraldine passed away at her home, having reached the age of 84 years. Blessed be her memory.
Geraldine is survived by her:
Sons:  James Swanson and his wife Lisa of Sheldon, Missouri,
            Jerald Swanson of Hector, Minnesota,
            John Swanson and his wife Kimberly of Bagley, Minnesota,
            Jason Swanson and his wife Marlyce of Fairfax, Minnesota;
Step-Daughter, Marcia Koop and her husband Marty of Barrington, Illinois;
Grandchildren: Timothy, Ashley, Matthew, Micah, Benjamin, Rebecca, Sophia, Levi, and Zachariah;
Other relatives, and friends.
Geraldine was preceded in death by her Parents, Husband Arnold, Step-Son Robert Swanson, Step-Daughter Margaret Swanson, and by her siblings and their spouses: Earl and Grace Geselle, Willard and Marie Geselle, Laverna Geselle, and Marion Geselle.