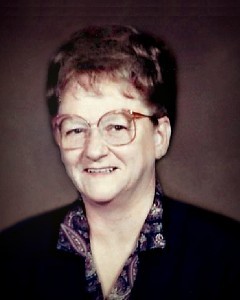 Service Information
Geraldine "Jerry" Huffman, age 86, of Gaylord, passed away Saturday, March 11, 2017, at the Glencoe Regional Health Services - Long Term Care in Glencoe, Minnesota.
Mass of Christian Burial will be Friday, March 17, 2017, 10:30 A.M. at St. Mary's Catholic Church in Arlington with interment in the Gaylord City Cemetery.
Visitation will be Thursday, March 16, 2017, from 5:00 P.M.-8:00 P.M. at the Egesdal Funeral Home in Gaylord. Visitation will continue one hour prior to the service at the church on Friday. There will be a Prayer Service at 8:00 P.M. on Thursday.
Visitation/Gathering
Egesdal Funeral Home
74 Main Avenue
Gaylord, MN
Website:hantge.com
Service
St. Mary's Catholic Church
504 NW 7th Avenue
Arlington, MN
Funeral Chapel
Egesdal Funeral Home
74 Main Avenue
Gaylord, MN 55334
Phone:(507) 237-2388
Cemetery
Gaylord Municipal (Gaylord)
Half mile south of Gaylord
Gaylord, MN
Obituary
Jerry Huffman was born Geraldine Theresa O'Neill on September 3, 1930, in St. Paul, Minnesota. She was the daughter of Ernest and Marie (Sweeney) O'Neill. She was baptized and confirmed in the Catholic Church and was a member of St. Michael's Catholic Church in Gaylord.
Jerry graduated from high school in South St. Paul in 1948 and went on to get her teaching degree from Winona State Teachers College in 1950. She later obtained a Bachelor of Science in Education in 1972 and completed graduate studies in Special Education at Mankato State College.
In the fall of 1950, Jerry moved to Gaylord, Minnesota, for her first job as a teacher. That is where she met the love of her life, John T. Huffman. Jerry and John were united in marriage in South St. Paul on March 26, 1951. They were married 64 years before John passed away and were blessed with eight children.
Jerry taught in Gaylord Schools (with the exception of several years when her children were young) until she retired at age 62. She enjoyed reading and spending time with her family.
Jerry became a resident of the Glencoe Regional Health Services - Long Term Care in April of 2010, and passed away there on Saturday, March 11, 2017, at the age of 86 years. Blessed be her memory.
Jerry is survived by her:
Children,         Jack Huffman and his wife, Beth of Williams Bay, WI,
                        Jay Huffman and his significant other, Irene Dauffenbach of Jordan, MN,
                        Joan Huffman of Fairfax, MN,
                        Joe Huffman and his wife, Marlene of Hutchinson, MN,
                        Jeff Huffman of Mesa, AZ,
                        Julie Tobias and her husband, Toby of Farmington, MN,
                        Jennifer Dietz and her husband, Mark of Ham Lake, MN, and
                        Jill Carson and her husband, Kelly of Minneapolis, MN;
18 Grandchildren;
16 Great-Grandchildren;
Many Nieces, Nephews, other relatives and friends.
Jerry was preceded in death by her Husband, John Huffman; Parents, Ernest and Marie O'Neill; Siblings, Marcella Casey, Vivian Armstrong, Jeanne Hjelter, Jacqueline "Jackie" Sadowski, Daniel O'Neill, Mary Frances Blaiser, John T. O'Neill, Ernest "E.B." O'Neill, Margaret "Peggy" Corniea, and Richard "Dickie" O'Neill.