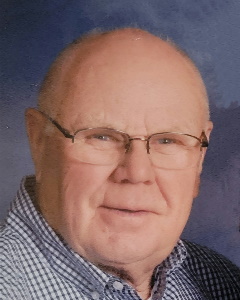 Service Information
Harold "Sonny" Thompson, age 83, of Buffalo Lake, formerly of Hutchinson, Minnesota, passed away on Wednesday, December 29, 2021, at his home in Buffalo Lake.
Mass of Christian Burial will be held Thursday, January 6, 2022, at 11:00 A.M. at St. Boniface Catholic Church in Stewart, Minnesota with interment in the church cemetery.
Visitation will be held Wednesday, January 5, 2022, from 4:00-6:00 P.M. at Dobratz Hantge Funeral Chapel in Hutchinson, Minnesota and will continue one hour prior to the service at the church.
Military Honors by the Hutchinson Memorial Rifle Squad.
Visitation/Gathering
Dobratz-Hantge Chapel
899 Highway 15 South
Hutchinson, MN
Website:hantge.com
Service
St. Boniface Catholic Church
551 Main Street
Stewart, MN
Funeral Chapel
Dobratz-Hantge Funeral Chapel
899 Highway 15 South
Hutchinson, MN 55350
Phone:(320) 587-2128
Cemetery
St. Boniface Catholic Cemetery (Stewart)
McLeod County, Round Grove Twp, Section 5
Stewart, MN
Obituary
Harold "Sonny" Luverne Thompson was born on January 8, 1938, in Hamilton County, Iowa. He was the son of Levi and Stella (Kalvig) Thompson and the youngest of seven children. Sonny was baptized as an infant on February 13, 1938, in Radcliffe, Iowa, and later confirmed in his faith as a youth in Ames, Iowa. He received his education in Ames, Iowa, and was a graduate with the Ames High School class of 1956.
Sonny entered active military service in the US Navy on July 16, 1956, in Ames, Iowa. He worked as an airplane mechanic and spent part of his tour on Midway Island. He received honorable discharge on July 7, 1960, at US Navrecsta, Treasure Island, San Francisco, California and achieved the rank of E2. Sonny was a member of the Hutchinson American Legion Post #96.
On June 9, 1961, Sonny was united in marriage to Lennie Smith at St. Cecilia's Catholic Church in Ames, Iowa. This marriage was blessed with four children, Jeanne, Jane, Joan, and Joe. Sonny and Lennie resided in Ames, Iowa, until they moved to Hutchinson, Minnesota in 1966, where they owned and operated the 7-Hi Motel for over 30 years. Some of the customers and the employees remain lifelong friends.
Sonny held many "side" jobs in addition to constantly maintaining and remodeling the motel. Some of those jobs were hot tar roofing, installing carpet, installing windows, parts delivery, and even as a safe cracker. In retirement, Sonny and Lennie started a small painting business. They painted the interiors of many assisted living homes, as well as homes of family and friends until the age of 82! He was also the official "greeter" at Jane's shop and the customers loved him!
Sonny loved to travel. He took his family on many vacations, including a month-long trip across the western states in a station wagon and visiting family along the way. Another favorite family vacation was going to Ear Falls, Ontario, to fish at his nephew's outpost cabin every summer. Most of his travelling usually included visiting friends and family along the way and if there was a casino nearby, all the better. Sonny and Lennie also enjoyed a memorable trip to Alaska and on their 50th anniversary took a trip to Hawaii, which was the culmination of all 50 states! Sonny and Lennie also had two wonderful trips to Australia to visit Joe and Kerryn. A few years ago, Sonny was able to go on a bucket list trip to New York City with his family, which he greatly enjoyed.
Another activity Sonny enjoyed was golfing with friends and family. He didn't care about his score as much as he enjoyed the laughs and smart talk. He also enjoyed woodworking in his retirement. Sonny made many Adirondack chairs, wooden owls and bird feeders for friends and family. In more recent years he loved his morning coffee spent at the club house with his buddies, laughing, teasing and storytelling. Sonny was a storyteller and just when you thought you'd heard them all, he'd surprise you with a new one. And of course, he loved his family so much and couldn't resist teasing the kids, grandkids and great grandkids to get them to smile and laugh. His goal was to always make you feel at ease and if he got you to laugh, that was a bonus! Sonny was loved by many and will be greatly missed…
Sonny passed away on Wednesday, December 29, 2021, in his home surrounded by family in Buffalo Lake, Minnesota, at the age of 83 years.
Blessed be his memory.
Sonny is survived by his:
Wife, Lennie Thompson;
Children, Jeanne Stafford and her husband, Tom of Eagan, MN,
Jane Powell and her husband, Craig of Hutchinson, MN,
Joan Taylor and her husband, Jim of Eagan, MN,
Joe Thompson and his wife, Kerryn of Victoria, MN;
Grandchildren, Matthew Stafford and his wife, Hannah, Marie (Stafford) Morales and her husband, Irving, Mitchell Stafford, Jake Powell and his wife, Brooke, Tyler Powell and his wife, Amber, Luke Taylor, Rita Taylor, Connor Taylor, Levi Thompson, Hayley Thompson, and Cassie Thompson;
Great-grandchildren, Harper and Hawkins Powell, Zinnia and Ximena Morales, and newly born on December 28th, Addison Stafford;
Sister, Dorothy Lenning;
Many other relatives and friends.
Sonny is preceded in death by his Parents, Levi and Stella Thompson; Siblings, Leone Kuhlman and her husband, Rex, Pauline Sampson and her husband, Milo, Harlan Thompson and his wife, Imogene, Jeannette Prehm and her husband, John, Ethel Kingkade and her husband, Bob; Brother-in-law, Pat Rush; Sister-in-law, Barb Smith.