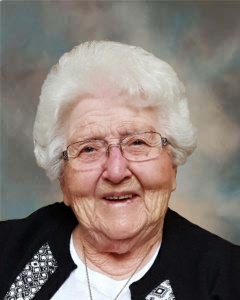 Service Information
Harriet Thor, age 103, of Hutchinson, Minnesota, passed away Saturday, May 14, 2022, at Harmony River in Hutchinson.
Memorial Service will be held on Saturday, May 21, 2022, at 2:00 P.M. at Faith Lutheran Church in Hutchinson with interment at a later date in the First Evangelical Lutheran Church Cemetery in rural Cosmos, Minnesota.
Gathering of Family and Friends will be held one hour prior to the service all at the church.
Visitation/Gathering
Faith Lutheran Church
335 Main Street S
Hutchinson, MN
Service
Faith Lutheran Church
335 Main Street S
Hutchinson, MN
Funeral Chapel
Dobratz-Hantge Funeral Chapel
899 Highway 15 South
Hutchinson, MN 55350
Phone:(320) 587-2128
Cemetery
First Evangelical Lutheran Cemetery (Cosmos)
54986 145th St
Cosmos, MN
Obituary
Harriet Anita (Knutson) Thor was born November 15, 1918, rural Walworth Township, Becker County, Ulen, Minnesota to Knute Andreas "Andrew" and Hilda Amanda (Kvamme) Knutson. She was baptized on December 8, 1918 at home since her church, Atlanta Lutheran, was closed due to the flu pandemic of 1918. She confirmed her faith in June, 1932, at Trinity Lutheran Church in Battle Lake, Minnesota. She attended Ulen Schools, graduated from Battle Lake High School in 1936, completed business school in Minneapolis in 1937, and worked at the Federal Land Bank in St. Paul from 1937 to 1942.
On December 19, 1942, Harriet married Charles Clarence Thor at University Lutheran Church of Hope in Minneapolis, Minnesota. They shared over 76 years of marriage until Charlie passed away in May, 2019. They were blessed with four children: Constance Jo, Lorelie Anita, Rosanna Jean, and Vernon Charles.
Harriet & Charlie farmed on the Thor home farm at Stillwater until March, 1961, when they moved to the Oakwood Farm near Cosmos. In 1965, they moved to Hutchinson where they started a machine shop, Custom Made Equipment. Harriet was the bookkeeper and Charlie's "CFO" of their business.
When Harriet was 12, her father passed away and she had to work as a household helper for her room and board while attending school in Battle Lake. Her mother and older sister went to work at Glendalough (now Glendalough State Park), but Harriet was too young to be hired and wasn't allowed to live there. As a farm wife in the '40's & '50's, she baked bread, cooked meals for the threshing crew, sewed clothes for 3 little girls, tended chickens, milked cows, raised 4 children, and all else that came with her love for her husband and family. After moving to Hutchinson, she worked at Montgomery Wards and Rexall Drug. She spent many volunteer hours with the Hutchinson Hospital Auxiliary coffee shop and thrift shop. Harriet was a faithful member of Faith Lutheran Church in Hutchinson since 1965, holding office with the FLCW, quilting, and serving at many funerals. Playing Scrabble with Charlie in the evenings was a tradition for many, many years and the competition was keen. Traveling to Norway & Germany, Charlie's Angels bowling team, visiting with friends, hosting coffee parties and family meals in their big house south of Hutchinson, refinishing the old woodwork and floors, among other projects, were highlights of her busy life.
In June of 2013, Harriet entered Harmony River Living Center due to health problems. She passed away Saturday, May 14, 2022, at Harmony River. Blessed be her memory.
Harriet is survived by her Daughters: Constance Dallmann and her husband Kenneth, Lorelie Davis and her husband John, Rosanna Roedder and her husband Ulrich; Son: Vernon Haugen Thor and his wife Turid; Grandchildren: Davin (Andrea) Dallmann, Barbara Ramgren, Sara (Jeff) Murphy, Alexander Haugen Thor, Jenny Haugen Thor; Great-grandchildren: Mitchell (Kellie) Ramgren, Erik Ramgren (Skyler Bulau), Abigail (Michael) Johnson, Michael Dallmann (Kailyn Seidel), Declan Murphy, Greta Murphy; Great-great-grandchildren: Autumn Lothert, Averie Ramgren, and soon to be born Baby Girl Johnson; Many other relatives and friends.
Harriet was preceded in death by her Husband, Charlie; Parents, Andrew and Hilda Knutson; Sister, Myrtle Johnson and her husband, Alex; Brother-in-law and Sister-in-law, Walter and Florence Thor; Parents-in-law, John and Anna Thor; and by her Niece, Nancy Johnson.