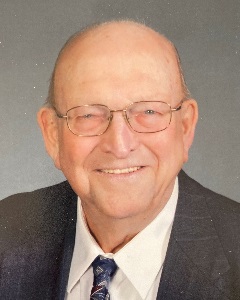 Service Information
Harry Wojahn, age 88, of Fairfax passed away peacefully at the Sleepy Eye Care Center on Monday, November 21, 2022, from pulmonary fibrosis and a blood cancer, recently having said he used up a cat's nine lives to battle those diseases, remaining with us many times when doctors said he would not.
A Polka Service and Celebration of Life will be Tuesday, December 20, 2022, 2:00 P.M. at Our Savior's Lutheran Church in Fairfax with interment in Ft. Ridgely Cemetery, Ridgely Township, Nicollet County, Minnesota.
Gathering of Family and Friends will be one hour prior to the service at the church.
Visitation/Gathering
Our Saviors Lutheran Church
406 1st Street SE
Fairfax, MN
Service
Our Saviors Lutheran Church
406 1st Street SE
Fairfax, MN
Funeral Chapel
Hauser-Hantge Funeral Chapel
601 South Park Street
Fairfax, MN 55332
Phone:(507) 426-7274
Cemetery
Ft. Ridgely Cemetery (Ridgely Twp)
Ridgely Township, rural Fairfax
Fairfax, MN
Obituary
Harry Albert Wojahn was born on January 1, 1934, to Henry and Minnie (Finstad) Wojahn in Comfrey, Minnesota. He attended elementary school in the one-room country schoolhouse District #76, where he, as the only student in his grade, liked to say he was top of the class. After graduating from Comfrey High School, he served four years in the Navy during the Korean conflict and sailed around the world on the U.S.S. Remey. He recently began sharing many stories from that memorable time. Always a music lover, he and a buddy were known to play as many records as they could for those on board.
Harry married Ruth (Sandberg) Wojahn on May 17, 1959, having met out dancing at George's Ballroom in New Ulm. They made their home in Fairfax, Minnesota, where he worked with his sister and brother-in-law running a bar and café before working in the drainage tile business until he retired from that hard manual labor at age 70. During that time, music was always at the forefront of his life. He learned to play the concertina in his early 30s and even quit smoking so he could afford his first concertina. One of his sisters says the concertina was his pacifier, leading him to break out of his extreme shyness. Although he had many interests, many of his favorite moments were spent sharing music at many events most months of the year. He had the best time going on the road with a young protégé and dear friend Carmin Lochner and eventually his friends in the Sleepy Eye Concertina Club to offer music for parades and many other events. He so enjoyed giving early lessons to older players as well as young concertina learners such as Lexi and Camille. His last days were rewarded with some of his "students," including Carmin, Ann Albrecht, and Holly Simon playing concertina for him these last two months. In part due to his teaching those across generations to play, he was in 2019 inducted into the World Concertina Congress Hall of Fame, one of fewer than three hundred people to have achieved that honor. He eventually surprised all of us by composing his own songs and music in these past years.
Harry was a life-long learner who would have loved to have been a geologist had circumstances allowed. He taught himself about rocks and spent many hours hunting for specific types of rocks across Minnesota and New Mexico. He also taught himself to cut and polish rocks so he could put them in settings; many people were recipients of his jewelry and bolo ties. He donated many of his fossils, arrowheads, and favorite rocks to the local schools and loved creating rock displays for local school children each year. He collected stamps and coins and enjoyed learning to use features of the computer. Harry had also enjoyed bowling and was a member of singles and doubles leagues for many years. His love of nature was also infectious; he loved pointing out to his kids and grandkids varieties of animal tracks and scat, insects, plants, fish, reptiles, and variations in the sky, especially when it was "sky-blue pink," as his dad used to say. Fishing year-round in Minnesota was also a great passion, and he was especially proud of a big lunker, a 52 1/2-pound muskie caught on Lake Miltona. He learned locations on that lake for catching the most fish in summer and winter alike.
During the last two years in hospitals as well as the Sleepy Eye Care Center, he was blessed by many visitors, including family, friends, and concertina buddies, some of whom entertained him with lovely tunes. He was also blessed with a friend who served as volunteer Disabled Veterans van driver, Jerry Nachreiner, who took him to weekly appointments at the New Ulm Medical Center and who kept the family informed of his health while sharing great stories with us all. One of nine children, Harry liked saying how fortunate he was that all his siblings got along so very well and always brought bad jokes and good cheer to those around them.
Harry is survived by his:
Wife, Ruth (Sandberg) Wojahn;
Daughter, Patti Wojahn and Pat Morandi;
Son, Mark Wojahn and Julie Gilbert;
Grandson, Braden Wojahn and Lindsey LaBrie;
Granddaughter, Justina Wojahn;
Brother, Paul;
Sisters, Arlene Skolberg, Helen and Bob Schroeder, Myra and Rodney Damm, and Luella and Jerry Peterson;
along with many nieces and nephews and their families.
Harry was preceded in death by his parents, Minnie and Henry; son, Jeff; brothers, Carl, Ray, and Elmo; nephews, Mike and Scott; and in-laws Anthon and Margaret (Anderson) Sandberg, Margie Finnegan, Marlyn Sandberg, Esther Wojahn, Lyndy Skolberg, Carlton Brudelie, Emy Wojahn, Avis Wojahn, and Howard and Annette Fredrikson.