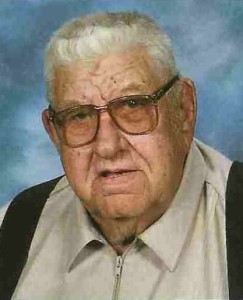 Service Information
Harvey Homan, age 85, of Hutchinson, Minnesota, passed away on Thursday, February 4, 2016, at his home in Hutchinson.
Funeral Services will be Thursday, February 11, 2016, at 11:00 A.M., at Peace Lutheran Church in Hutchinson with interment at the church cemetery.
Visitation will be Wednesday from 5:00 - 8:00 P.M. and Thursday from 8:00 - 9:00 A.M., at Dobratz-Hantge Funeral Chapel and will continue one hour prior to the service at the church.
Visitation/Gathering
Dobratz-Hantge Chapel
899 Highway 15 South
Hutchinson, MN
Website:hantge.com
Service
Peace Lutheran Church
400 Franklin Street SW
Hutchinson, MN
Funeral Chapel
Dobratz-Hantge Funeral Chapel
899 Highway 15 South
Hutchinson, MN 55350
Phone:(320) 587-2128
Cemetery
Peace Lutheran Cemetery (Hutchinson)
205th Drive
Hutchinson, MN
Obituary
Harvey Henry Herman Homan was born May 28, 1930, in Brownton Minnesota. He was the son of Otto and Wilhelmina (Plath) Homan. Harvey's mother passed away in 1941. His father was not able to raise the two boys and as a result, Harvey was raised by Otto's brother and wife, Henry and Emma Homan. He lived and worked with them on their dairy farm near Biscay, Minnesota, where he had a very happy childhood.

On February 15, 1949, Harvey was united in marriage to Myrlo Mae Ulrich at Peace Lutheran Church in Hutchinson, Minnesota. This marriage was blessed with four children, Christine, Linda, Jane and Bruce. Harvey and Myrlo resided in McLeod County. They shared 29 years of marriage until, Myrlo passed away on December 19, 1978, as a result of a tragic car accident, near New Germany, Minnesota, which also took the lives of his daughter Christine Spiering, granddaughter Amy Spiering and niece Susan Ulrich.

On February 23, 1980, Harvey married Mary Eleen Reid at Peace Lutheran Church in Hutchinson. After a number of happy years together, Mary became ill and passed away.

Harvey entered into a relationship with Gladys Lambert for 25 years. They were active volunteers at the VFW Club. They also enjoyed spending time at Lakewood Campgrounds on Lake Washington with his brother, Elvin and another whole family of friends. Gladys passed away in 2007.

Harvey delivered the Minneapolis Star and Tribune as a child and delivered milk to local residences in Hutchinson as a young man. He worked for the State of Minnesota, initially mowing and snow plowing. Later in his career he was a building construction manager for the State of Minnesota. After retiring from the State of Minnesota, Harvey started a successful residential and commercial construction company which served the Hutchinson area.

For many years, Harvey worked for and was very active with the McLeod County Fair Board. He was a member of Peace Lutheran Church in Hutchinson. Harvey was also a member of the Gopher Campfire Conservation Club, the Cedar Mills Gun Club and the Brownton Gun Club.

Harvey enjoyed fishing, tending to his gardens and to the fire pit. He also enjoyed bird watching, woodworking, cooking and baking. Harvey especially cherished spending time with his family and friends. He was a prolific conversationalist and a wonderful listener, which he exhibited almost every day with his close group of friends at Hardee's.

Harvey passed away on Thursday, February 4, 2016 at his home in Hutchinson at the age of 85 years. Blessed be his memory and may God rest his soul.

Harvey is survived by his:
Children, Linda Thomsen of Minneapolis, MN,
Jane Diederich and her husband, Roland of Fridley, MN,
Bruce Homan and his wife, Debra of Spring Park, MN;
Grandchildren, Jason and Jennifer Diederich of Minneapolis, MN,
Christopher Homan of Minneapolis, MN,
Andrew Homan of Washington, DC;
Brother Elvin Homan of Glencoe, MN;
Many other relatives and friends.

Harvey is preceded in death by his Parents, Otto and Wilhemina Homan; First Wife, Myrlo Homan; Second Wife Mary Homan, by Gladys Lambert, Daughter, Christine Spiering, Granddaughter, Amy Mae Spiering, Sister-In-Law, Rosa Homan and Niece, Susan Ulrich.