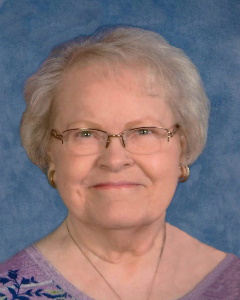 Service Information
Helen F. Froemming, age 80, wife of Dale, of Hutchinson, Minnesota, passed away on Sunday, October 10, 2021, at Dassel Lakeside in Dassel, Minnesota.
Funeral Service will be held on Thursday, October 14, 2021, at 11:00 A.M. at Peace Lutheran Church in Hutchinson, Minnesota, with interment in the church cemetery.
Visitation will be held one hour prior to the service at Peace Lutheran Church.
Visitation/Gathering
Peace Lutheran Church
400 Franklin Street S
Hutchinson, MN
Service
Peace Lutheran Church
400 Franklin Street S
Hutchinson, MN
Funeral Chapel
Dobratz-Hantge Funeral Chapel
899 Highway 15 South
Hutchinson, MN 55350
Phone:(320) 587-2128
Cemetery
Peace Lutheran Cemetery (Hutchinson)
205th Drive
Hutchinson, MN
Obituary
Helen Florence Froemming was born at home on October 25, 1940, in Grafton Township, Sibley County, Minnesota. She was the daughter of Lenhart C. and Eva Marie (Hanke) Dettmann. Helen was baptized on May 4, 1941, at the Stewart Methodist Church by Reverend Olney, confirmed on May 10, 1952, at Vineyard Methodist Church in Hutchinson, Minnesota, by Reverend Russell Carr. Helen was later confirmed Lutheran at Peace Lutheran Church in the fall of 1960, by Reverend Julius Buelow. She went to first grade in the Stewart Public School, second thru sixth grade at McLeod County District #20 West Lynn School, and then attended Hutchinson High School where she graduated with the class of 1958.

On September 18, 1960, Helen was united in marriage to Dale R. Froemming at Peace Lutheran Church in Hutchinson. This marriage was blessed with two children, Susan and Dean. They shared 61 years of marriage. Dale and Helen farmed and raised their family five miles north of Hutchinson at the end of the Lake Hook Road.

Helen worked at the Hutchinson Medical Center from 1958 to 1959 and at the Dassel State Bank from 1959 to 1960. During the 1960's, she raised her two children, gardened and managed the household. During the 1970's, Helen worked part time for various insurance agencies, local retail stores, and then worked full time at Hutchinson Technology until she retired in 1997.

Helen was a talented seamstress and shared her skills as a sewing 4-H leader, made special outfits and decorating items for the family, and especially enjoyed making cross-stitch Christmas stockings for each of the new family members. She loved playing in their 500 card clubs and attending neighborhood picnics and coffee sessions. Dale and Helen made an annual Thanksgiving trip to Colorado to see Dale's sister, Candace, and her family and always ensured the family bonds remained strong. They also took time for an annual anniversary trip and were able to visit many different destinations throughout the United States. But many of the best times were spent with family at the cabin on Lake Washington near Dassel, Minnesota. Helen loved to have the grandchildren with her at the cabin and would do sleep overs, play cards, and catch sunfish off the dock. As an only child, Helen always appreciated her family and was happiest when surrounded by her husband, in-laws, children, nieces, grandchildren, and great-grandchildren.
Helen passed away on Sunday, October 10, 2021 at the Dassel Lakeside Nursing Home at the age of 80 years.
Blessed be her memory.

Helen is survived by her:
Husband, Dale R. Froemming;
Daughter, Susan Trautman and her husband, Allan, of Darwin, MN;
Son, Dean Froemming and his wife, Debbie, of Hutchinson, MN;
Grandchildren, Daniel Froemming and his wife, Jordyn, of Hutchinson, MN,
Jennifer Braathen and her husband, Tyler, of Thompson, ND,
Taylor Trautman and her boyfriend, Chris Amsden, of Plymouth, MN,
Timothy Trautman and his girlfriend, Kiera Gottfredsen, of St Paul, MN;
Great-Grandchildren, Valentine Braathen and Wesley Braathen;
Sister-in-Law, Candance Brinkman and her husband, Mark, of Boulder, CO;
Nieces, Kelly Jackson and her husband, Michael, and sons Leo and Ryden of Thornton, CO,
Kristin Godfrey, and her husband, Graham, of Denver, CO;
And many other relatives and friends.

Helen is preceded in death by her Parents, Lenhart C. Dettmann and Eva Gehrke; Grandson, Gregory Trautman; and Niece, Laura Brinkman.