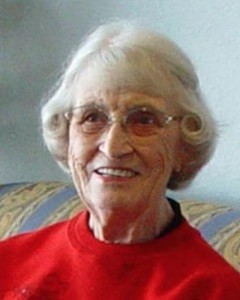 Service Information
Helen Sjogren, age 94, of Hector, passed away Saturday, May 16, 2015, at the Buffalo Lake Healthcare Center in Buffalo Lake, Minnesota.
Funeral Service will be held Friday, May 22, 2015, at 11:00 A.M. at First Lutheran Church in Hector, with  interment in the Hector City Cemetery.
Visitation will be held on Friday from 9:00 – 11:00 A.M. at Church. 
Visitation/Gathering
First Evangelical Lutheran Church
220 5th Street West
Hector, MN
Service
First Evangelical Lutheran Church
220 5th Street West
Hector, MN
Funeral Chapel
Hughes-Hantge Funeral Chapel
311 Main Street S.
Hector, MN 55342
Phone:(320) 848-6297
Cemetery
Hector City Cemetery
Renville County, Hector Township, Section 32
Hector, MN
Obituary
Helen Friedareka Anna (Rockeman) Sjogren was born April 20, 1921, to Henry C. and Bertha (Foesch) Rockeman on the family farm six miles north of Hector, Minnesota.  She was baptized April 21 at home and confirmed June 9, 1935 at St. Paul's Lutheran Church.  She graduated from Hector High School.
Helen married Clarence (Boots) Sjogren November 10, 1939 and moved to the farm where he lived in Brookfield Township.  They raised three sons.  Helen was a member of the Renville County Home Extension Club and was also involved with the Renville County Dairy Princess Contest for 12 years.  Helen and Boots were also leaders for the Lakeside Comets 4-H Club.
Upon retirement Boots and Helen moved to a house in Hector and then to Prairie View.  Helen's last days were at the Buffalo Lake Health Care Center. 
For 23 years Boots and Helen wintered in Arizona, enjoying their time there with many friends.  They also liked to travel and took tours to Alaska and Hawaii.  Helen liked flowers, especially roses, and did a lot of gardening.  Each fall she filled a large chest freezer with frozen goods, with a large section reserved for apple pies.  Boots and Helen loved to dance and play cards with their many friends.  But most of all she loved her family.  Blessed be her memory.
Helen was preceded in death by her husband Boots.  She is survived by children: Steven Sjogren and his wife Louise of Hector, David Sjogren of St. Paul, and Dennis Sjogren of St. Cloud; grandchildren: Lael Dornseif and husband Jake of Hector, Kaia Verich and husband Joe of Rhinelander, Wisconsin, and Eric Sjogren and wife Jamie of Minnetonka; great-grandchildren: Benjamin, Allison, Brayden, Luke, Isaac, Rachel, and Jaelyn.